Principali Programmi per l'analisi agli elementi finiti
Nastran, Patran, Marc http://www.mscsoftware.com
Ansys www.ansys.com
Algor www.algor.com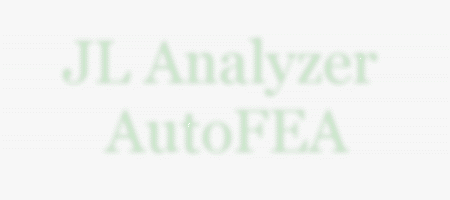 Jl Analyzer www.autofea.com ECCEZZIONALE!! un software per elementi finiti con men¨ in italianoCLICCA QUI PER AVERE ULTERIORI NOTIZIE
Altri software: ABAQUS - ADAMS - ADINA - COSMOS/M - LS-DYNA - -PAM-CRASH - MI/NASTRAN - FEMAP - SIGMA
---
Software libero:
Jl Analyzer www.autofea.com iJL analyzer Ŕ un programma per l'analisi agli elemeti finiti completo e disponibile gratuitamente in versione limitata. E' possibile usare alcuni menu in LINGUA ITALIANA. CLICCA QUI PER AVERE ULTERIORI NOTIZIE
ALADDIN : Aladdin is a computational toolkit for the interactive matrix and finite element analysis of large engineering structures, particularly building and highway bridge structures. Aladdin views finite element computations as a specialized form of matrix computations, matrices as rectangular arrays of physical quantities, and numbers as dimensionless physical quantities. Source code is available after registration from the ALADDIN web site, and can be freely distributed.
CalculiX : CalculiX is available under the terms of the GNU public license. CalculiX is a package designed to solve field problems. The method used is the finite element method. So far only structural problems can be solved but it is planned to extend the capabilities.
FELIB : The Finite Element Library (FELIB) is a program subroutine library for the numerical solution of partial differential equations using the finite element method.
FELT : The FElt solves linear static and dynamic structural and thermal analysis problems; it can also do modal and spectral analysis for dynamic problems. Contains 2D and 3D elements. Comes with a post-processor. Source code with GNU license.
FEACPP : Object oriented code suitable for learning purposes and experimentation. Application to 2D and 3D linear elastic stress analysis. C++ source code on diskette available for a nominal price.
FEM : FEM is a C++ Object Oriented Finite Element Code Demonstrator. FEM is public domain software with source code.
SLFFEA : SLFFEA stands for San Le's Free Finite Element Analysis. It is a package of scientific software and graphical user interfaces for use in finite element analysis. It is written in ANSI C by San Le and distributed under the terms of the GNU license.