---
MALESCO's
OLD FAMILIES
(VIGEZZOVALLEY - U.E. - ITALY)
GENEALOGICAL TREES SINCE 1500
da Dottor Giacomo Pollini
"STORIA DI MALESCO"
edizione Carlo Clausen di Torino 1896
e ricerche contemporanee
negli anni 1999/2000

nel 1985 il Gruppo Alpini di Malesco
ha curato in proprio la ristampa del volume
"STORIA DI MALESCO"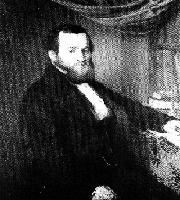 opera di G.Patritti 1859 olio su tela cm. 100x78
Domodossola Museo Civico "G.G.Galletti"
Se con quest'opera sarņ riuscito al desiderato intento d'illustrare il mio paese e di dare una pubblica prova dell'affetto che porto alla mia diletta valle, quanto essa mi costò di studi e fatiche, sarà compensato.
E mi basta!
Torino, 29 giugno 1896 Dottore GIACOMO POLLINI

---
THE SEVEN ANTIQUE FAMILIES
SINT UT SUNT, AUT NON SINT
POLINO POLLINI* SOTTA* TRABUCCHI*
STATO FAMIGLIE FINE '800 STATO FAMIGLIE ANNO 2000
---
WITH MORE RECENT STORY OTHER MALESCO'S FAMILIES
BARBIERI (1740) BERTINA (1638) BRUNELLI (1875) FERRARI (1840)
---
Do not forget to visit Who is he? of Vigezzo Valley
(italian only)
---

WARNING: when viewing the family tree, the Primogenitor's page is displayed, with the wife and related siblings to the right side, whilst below are the children. By clicking on one of these you open the corresponding page.
On the left hand side of the page all the names in the family tree are listed, by clicking on one of these you will open the relevant position on the family tree. The person you begin the search with is the last one at the bottom of the screen, above it if known and existing in the database will be the parents and grandparents.
On the header page for all families marked with an asterisk * , there is a table with the names of all persons for whom there is a complete data set, including biographical details, comments, photos and other information. Using this list you can easily access the most important individuals.
All pages can be printed, all pages contain a maximum of five individuals. Beginning from the bottom and moving up it is possible to obtain a series of pages showing the complete genealogy of the subject of your search up to the Primogenitor. To return to previous screens use the BACK button on your web browser,or click on the special button "pagina Malesco".
---
---