PALESTINA - BALSAM

Rapporti sulla situazione sanitaria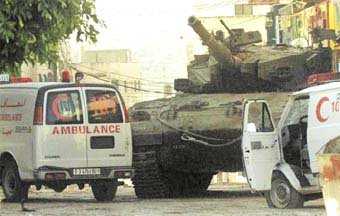 PHYSICIANS FOR HUMAN RIGHTS – ISRAEL
Activities Report, April 2002.
On 29.3.02 operation 'Defense Wall' was initiated by Israel, in the course of which the Israeli security forces re-occupied Ramallah and gradually entered other Palestinian towns, causing grave damage and numerous injuries and casualties.
In each town, as it was occupied, movement of ambulances and medical supply vehicles was completely prohibited by
Israeli army. Vehicles attempting to move were often attacked by Israeli forces. This led to a total collapse of the
Palestinian health system. On the violations of human rights during the still-continuing military operation, see the second attached document, 'Medicine Under Attack', published by PHR-Israel on 4.4.02.
Physicians for Human Rights-Israel has received, and is still receiving, hundreds of requests from hospitals, medical centers, the Palestinian Health Ministry and the Palestine Red Crescent society, to help coordinate passage of ambulances and supplies to and from medical centers.
PHR-Israel has coordinated passage of water, staples, medicines, medical supplies, ambulances and evacuating
personnel to and from medical centers, by contacting Israeli members of Knesset, the Israeli Civil Administration, the IDF Coordinator of Operations in the Occupied Territories, and the Military Secretary of the Prime Minister – and procuring permission for passage of these vehicles. Close coordination with ICRC (Red Cross), PRCS (Red Crescent) and UPMRC ('Medical Relief') was conducted throughout. In some cases PHR-Israel workers have personally transported the goods.
Despite coordination, many cases resulted in refusal or in protracted delays (up to 24 hours). In some cases despite
express permission given by the IDF, vehicles were shot at while moving.
In parallel, PHR-Israel received hundreds of appeals to trace prisoners and detainees who had disappeared since the
start of the military operation. Despite repeated requests for medical details on detainees, the Israeli military refused to
provide details. PHR-Israel is continuing its attempts to collect evidence from those detained and from their families, after their release. For details on a joint High Court petition submitted on this issue by PHR-Israel and three other Israeli
organizations, see below, 5.4.02.
As events moved rapidly, many of the coordinations and activities were not documented. Below is a partial list of
outstanding activities initiated by PHR-Israel in the wake of the events.
1.4.02 – PHR-Israel received an appeal regarding dialysis patients from the center for medical aid in Bethlehem and
Al-Hussein hospital, Beit Jalla. According to the appeal supplies for the dialysis machine at the hospital had run out and
several patients had not received dialysis care for 3 days. They asked to help supply equipment and coordinate passage
of patients. PHR-Israel purchased the supplies from a company in Beit Sahour and transported them to the hopistal. With the aid of ICRC, PHR-Israel coordinated passage of dialysis patients to the hospital, albeit with great delays.
2.4.02 – PHR-Israel staff members met with the Israel Medical Association, with a special committee set up to
examine the medical aspects of the confrontations. PHR-Israel gave evidence on medical violations, demanded that IMA issue a protest against Israeli policies, and condemned their silence on these issues so far. Thus far, no actual response has been received from the IMA.
3.4.02 – PHR-Israel organized, together with other Israeli peace and human rights organizations ('Ta'ayush', Women's
Coalition for Peace, and others), a 'White March' of non-violent protest from A-Ram checkpoint in Jerusalem to
Qalandia checkpoint (entrance to Ramallah), taking four trucks of medicines and staples intended for distribution in
Ramallah hospitals by UPMRC, and protesting against Israeli policies. The marchers encountered violence from Israeli
police, who used tear gas and beat activists.
4.4.02 – PHR-Israel completed a report on violations of medical rights and humanitarian law in the course of the
re-occupation of Palestinian cities, entitled 'Medicine Under Attack'. The report was widely distributed. (See attached).
4.4.02 – PHR-Israel was approached by another Israeli human rights organization, ACRI, that was trying to coordinate
passage of 28 dialysis patients to Jenin hospital for urgent treatment. They had been told they should coordinate it
with the Israeli army. PHR-Israel talked to the Israeli Civil Administration and gave them the list of patients. The Israeli
authorities demanded a separate request for each patient, the details of each ambulance, ambulance driver and medic
accompanying the patients. PHR-Israel complied. The patients were not transferred, as an Israeli tank was standing at
the entrance to the hospital, denying passage in either direction. On the 7th of April, 5 days after their previous
treatment, 4 of the 28 patients were admitted for treatment. The other 24 patients have not received care, to the best of
our knowledge, up to the writing of these lines. See below, 11.4.02, for update.
5.4.02 – PHR-Israel B'tselem, Hamoked and ACRI submitted a joint High Court petition against the prohibition on
Palestinian detainees of meeting an attorney. On 7.4.02 the petition was rejected by the court, on the grounds that 'in
times of fighting, discussion of rights of detainees is improper'.
5.4.02 – PHR-Israel received a request for aid from the ICRC (Red Cross) to coordinate passage of dialysis patients
from Tul Karm to a hospital in East Jerusalem (Auguste Victoria) or Israel (Beilinson), as they could not be moved for
dialysis to Al-Watani hospital in Nablus due to the fighting. ICRC finally succeeded in coordinating their passage to
Beilinson hospital in Israel.
6.4.02 – PHR-Israel doctors set out to hold a mobile clinic in the village of Azoun, and were prevented entry by Israeli
soldiers at Tul Karm checkpoint.
7.4.02 – PHR-Israel held a joint press conference with UPMRC (Dr. Mustafa Barghouti) and the Palestine Red
Crescent Society (Dr. Younis Al-Khattib) for the purpose of publicizing the effects of the military operation on medical
services in the Occupied Territories, and on the fabric of daily life, released the report 'Medicine under Attack' and
provided testimonies on the events. Speakers: Prof. Raphael Walden, Prof. Michael Weingarten, Prof. Orly Elpeleg, Dr.
Ruchama Marton, Dr. Yigal Shochat, Dr. Ilan Gull, Dr. Ralph Guggenheim, Dr. Ahmed Massarwa, Ms. Hadas Ziv, Mr.
Salah Haj-Yehya. The contents of the Press Conference were widely covered on Israeli TV, radio and newspapers.
7.4.02 – PHR-Israel issued a letter of appeal to the Director General of the World Health Organization (WHO) requesting
that the situation in the region be officially declared to be a 'human disaster - complex humanitarian emergency'.
7.4.02 – PHR-Israel submitted a High Court petition against the paralysis of medical services in Palestinian towns as a
result of the Israeli operation. Emphasis was placed on prevention of evacuation of patients and injured, and lack of
supplies at medical centers. The High Court rejected the petition the next day, on the grounds that 'the State had
explained that soldiers were instructed to respect humanitarian principles at all times'. The court found this explanation
sufficient.
8.4.02 – PHR-Israel received requests from three different organizations to purchase and coordinate transport of
material medical aid to Palestinian medical centers. The first convoy will be donated by Diakonia Foundation, and
distributed by PHR-Israel and UPMRC throughout the West Bank; the second will be donated by Medecins du Monde and
distributed by PHR-Israel to the Patients Friends Society in Jenin; the third will be donated by NOVIB for distribution by
PHR-Israel, Sikkui and B'tselem in the West Bank.
9.4.02 – PHR-Israel was approached by Israeli press representatives in order to ascertain Israeli allegations according to
which Palestinians in Jenin had refused to accept a cessation of fire to enable evacuation of bodies. After ascertaining
details with UPMRC, the Palestine Red Crescent Society (PRCS), and the International Committee of the Red Cross
(ICRC), PHR-Israel came to the conclusion that the army had approached PRCS and ICRC to offer coordination of
evacuation on the night between the 7th and the 8th of April. They had agreed, and coordination negotiations had
proceeded throughout the 8th of April. That evening they had agreed upon evacuation scheduled for the morning of April
9th. On the morning of April 9th the coordinations were stopped by the IDF due to escalation of fighting in Jenin. At no
stage had Palestinians refused cessation of fire for evacuation.
11.4.02 - PHR-Israel submitted a pre-petition letter in preparation for a High Court petition on the issue of the dialysis
patients still in need of treatment at Jenin hospital. Since 10.4.02 there has been no electricity supply at the hospital, as a
result of which the dialysis machine cannot function. The hospital generation is out of order. The ICRC has supplied the
hospital with a small generator, but it is not sufficient. To the best of PHR-Israel's knowledge, 13 patients have not yet
received lifesaving care in the form of dialysis. PHR-Israel will continue with legal action if the army does not facilitate this treatment immediately.
Plans for the weekend: Doctors of PHR-Israel will accompany the Belgian Public Health Minister, Mrs. Magda Aelvoet, to the Governmental Hospital in Ramallah, this Saturday, 13.4.02, in order to ascertain damage done to the medical system in Ramallah.
PHR-Israel will continue to combat Israeli violations of the right to health, human integrity, and humanitarian
law, so long as these violations continue.
Physicians for Human Rights-Israel is a non-partisan, non-profit organization founded in 1988, comprising some 650 members who combat Israeli health and human rights violations, and strive to ensure equal and adequate health services for all.
Tel: 972 3 6873718
Fax: 972 3 6873029
e-mail: mail@phr.org.il
website: www.phr.org.il