For questions about moving here:
Meet the Adventurers:
Our Family consists of six. That's right, we were crazy enough to do this with four children.
Dan was born in Peterborough, England, and had a dual citizenship until he joined the US navy at the tender (and gullible) age of 17. He met Katrina when he was a student at the Navy nuclear prototype (S1W) in Idaho, and married her shortly after reporting to his first submarine, the USS Salt Lake City (SSN-716) in San Diego. Dan Currently works as the radiological controls training assistant in the R-5 division of USS Emory S. Land (AS-39), which is his third ship, although it's his first surface ship. Dan is a nuclear qualified Machinist Mate's Chief Petty Officer (submarines), but prefers to be known as just "the chief"..

Dan is a die hard computer hardware geek. He is easily bored with applications and such things as word processors and spreadsheets, but could spend hours tweaking his motherboard BIOS settings for optimal performance. His current computer specs can be found here.

Dan also enjoys hunting (darn little of that in italy), fly fishing (NOT to be confused with commie-hardware-bait-fishing), shooting (NONE of that in italy), spoiling Katrina, and reading fantasy/sci-fi novels.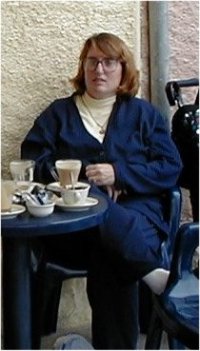 Katrina was born in Idaho Falls, where most of her family still resides today. She moved around among the western states as a child, but still calls Idaho Falls home. However, she really liked Silverdale, as she can attend church at Our Lady Star Of The Sea Catholic Church, which she used to go to religiously :)

Katrina's hobbies include baking (and boy, is she good at it!), Her church, her children, reading, drinking gallons of Cafe Latte, bungie jumping, walking in the rain, and spoiling Dan.. (O.K., maybe not bungie jumping).

Katrina is a practiced saint. She is probably the nicest, most sincere person you'll ever meet. Very honest, down home, and direct. Not alot of webs of intrigue and misdirection in her life.
And, she's a much nicer person than her hubbie.

Sean is the oldest child, and was born in Ogden, Utah.

Sean is developing into quite the young adult. He has taken on a responsible role in the family and is showing an increasing amount of maturity every day.

We count ourselves very lucky that Sean watches over and plays with his younger siblings, and truly dotes on his younger brothers.

Sean's hobbies include computer and playstation games, listening to CD's, Soccer, riding his bike, shooting, fishing, and anything his dad is into.

Now if only we can survive the teen years......


Amanda, our second, and loudest child, was born in a naval hospital in San Diego, CA (no California blonde jokes, please). Would you believe she had flaming red hair when she was born?

Amanda likes most of the normal "girl stuff"...curling her hair, listening to Nsync and backstreet boys (there's no accounting for taste), tormenting her brothers, reading, playing with dolls, or whatever.

She is a very empathic little girl, and her feelings are a fragile thing. Even though she tends to do all the things little girls are famous for, we love her very very much
Patrick was born in Idaho Falls, and has only had the opportunity to live in Idaho Falls, Silverdale, Virginia, and here in La Maddalena

Patrick is a very upbeat and energetic little boy (euphemism for "he runs us ragged..we need to cut down his sugar intake"), but he is also our only child that is totally content in amusing himself. He goes for hours playing with his "guys", with nary a thought of being bored or needing other kids.

His main hobbies are playing with his "guys" ( a rather formidable collection of army men, cowboys and Indians, and micro machines), playing with Sean, anything remotely related to pokemon, and generally being silly

Patrick has an excellent sense of humor, well developed beyond his years.
Zachary was born in August of 98. He is the spitting image of both Sean and Patrick when they were babies. He was born in the Navy hospital in Bremerton, WA

His hobbies include staying awake all night, filling his diapers when dad is the only one at home, smiling at everyone that comes near him, beating on any expensive electronics equipment with a heavy, blunt instrument, and running as fast as he can to wherever it is that we don't want him to be.

Family and friends who have known us for years will note the striking similarities between Zachary and Patrick as a baby.