RE-PRESSED OLDIES

Essential selection di ristampe in 10" in limited edition..
Jahovah/....-Freddy McGregor/Leroy Smart/I-roy-Observer Gold 10"
Warrior/...-J.Clarke/R.Trevor/Heptones-Obverser Gold 10"
Rock on/dub/Live after you/dub-G.Isaacs/D.Brown-Observer Gold 10"
Clap the barber/....-M.Rose/F.Holt/Jah Earl-Observer Gold 10"
Here I came again/Flat foot hustling..-Dillinger/D.Brown-Observer Gold 10"
"Jahovah" e' la heavyweight spiritual Niney cut del ritmo "Satta",

ina discomix style..King Tubby at the control i-towa,assieme a "Rastaman Camp" una delle top tunes di FFreddie McGregor.Sul B-side counteraction di Leroy Smart con "Jah is my light" ina extended mix con dj cut "Satta I" del compianto I-Roy.Su un Pablo riddim "555 Crown St." troviamo "Warrior" del leggendario Johnnie Clarke con un'extended dubmix breve,ma conpensato dalla seguente dj cut di Ranking Trevor "Whip dem Jah", un classico.Sul lato B una top stepper tune degli Heptones "Everyday Life" e la sua dub vesion..killer roots !!!La selezione continua con "Rock on" di Gregory Isaac con sezione fiati al gran completo per questo "horns" mix, diverso da quello uscito qualche anno fa su ristampa in 7".Sul lato B Dennis Brown che
con Niney ha inciso alcune delle migliori canzoni della sua carriera.
"Live after you" e' forse una tune poco conosciuta,ma e'roots di prima qualita'!!garantito!!
Satamasagana/....-Don Carlos/Dillinger/Barry Brown/... -Attack Gold 10"
Rocking of the five thousand/....-Madoo/Toyan/Jah Stitch-Attack Gold 10"

Bad days/.....-Johnny Clarke/King Tubbys/Jah Stitch-Attack Gold 10"
Jah love is with I/.....-Johnny Clarke/Leroy Smart/King Tubbys-Attack Gold 10"

Free Africa-Horace Andy-Vintage Avenue Recording 7"
Tabby Diamond-Eyes of Africa-Vintage Avenue Recording
Freddy Mckay-Inna my yard-Vintage Avenue Recording 7"
La Vintage Avenue Recording è la nuova etichetta della Jet Star (tra l'altro molto attiva ultimamente)dedicata
alla ristampa dei classici del reggae di metà/fine anni 70 e
dai loro archivi fuoriescono gemme dal King Tubby studio come Free Africa e Inna my yard oltre ad una produzione di Striker Lee, Eyes of Africa.
Tabby Diamond,dei leggendari Mighty Diamonds,canta sul ritmo già utilizzato
da Mikey Brooks nella letale "Money is not all" e ce ne rende una versione
altrettanto elettrizzante; Freddy Mckay interpreta invece una slow deep stepper tune di immenso spessore.......essential.
Free Africa non richiede commenti essendo una delle top tune di
Mr.Horace Andy.Buona la qualità sonora dei lati A mentre il B side
risulta un po' opaco,discreta la stampa.....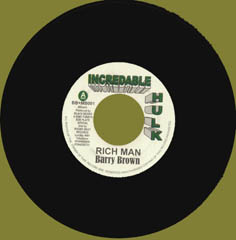 Rich man-Barry Brown-Incredable Hulk 7"
Tune di Barry Brown prodotta da Bunny Lee
sul finire degli anni '70,
questo vocale e questo mix venivano forniti
esclusivamente ai sound system da King Tubby..
dubplate style!!
Adesso è disponibile per tutti anche se in
limited edition, quindi ad un prezzo leggermente superiore alle semplici ristampe
(4 pound invece dei canonici 3 ) ma per chi
sa' apprezzarla............

Holy Mount Zion-Well Pleased & Satisfied-Dub Station 7"
Faith-Sylvan White-Cornerstone 7"
Freeman-Andrew Chambers-Cornerstone 7"
Tre ristampe essenziali per ogni roots fans....just listen+meditate!!!
Give up the badness-Johnny Clarke-Justice records 7"
Michael Rose-Freedom-Justice records 7"
Entrambe distribuite e stampate dalla Round Beat records (visitate
il negozio a Camdem Town, si tratta dell'ex mitico Dub Shack)e
recuperate da mastertapes chissà come arrivati in UK.
Give up the badness era stata publicata già nel 1977 da Bunny Lee,
nel periodo d'oro di Johnny Clarke, ma la versione andata adesso in stampa, presenta una base diversa dall'originale apparsa su lp, la mitica
"Mission are possible"dei Viceroys, Winston Riley production.
Freedom, originalmente pressata su etichetta Observers torna in
ristampa per la felicità di tutti i roots collectors....nah miss it!!!
Give Rasta praise-Twinkle brothers-Twinkle 7"
Sweet vocal and armony per questa deep rasta tune appartenente alle
prime produzioni targate Norman Grant & soci.

Release the chains/Dreadlocks ....- Barry Brown/Spliffy Dan-Rockers 10"
Due tunes essenziali prodotte da Augustus Pablo.."Drealocks preaching Love" di Spliffy Dan
e' stata ristampata per la prima volta e finalmente e' disponibile a tutti a un prezzo ragionevole senza dover spendere una cifra da capogiro nei collector's corner,"Release the chain" invece e' un altro vocal della classica "Humble yourself" di Asher&Trimble.
Just buy it faaast!!!
What about the half-Dennis Brown-Emmanuel 7"
Oh what a day-Dennis Brown-Emmanuel 7"
Open up-Dennis Brown-Emmanuel 7"
Una scarica di ristampe di tunes di Dennis Brown per la sua etichetta
"DEB-Emmanuel music",e ognuna vale l'acquisto anche se purtroppo
"Oh what a day" non' e' sullo stesso stepper riddim del 12" originale.
Rastaman camp-Freddie McGregor-Studio One 7"
I'm a rasta-Freddie McGregor-Studio One 7"
Qualita' di stampa pessima per queste re-press Studio One,ma valgono comunque la spesa questi classici:"I'm a Rasta" e' stata poi rifatta e chiamata "Revolutionaries" nel '77,ma questa e' la cut originale:"I'm a revolutionist,I'm a Rastaman,I man no deal wid capitalist...we a Jah Jah children,we all Israelites..", il riddim e' quello di "I'm still in love with you" di Alton Ellis;
Rastaman Camp è una classica Shaka tune, suonata da tutti i roots sound nella sua stepper Observer version,esce ora in ristampa l'original Studio One cut...killer tune da non perdere;
Life is a funny thing-Leroy Smart-Attack 7"
Love in their heart-Leroy Smart-Attack 7"
La prima e' sul "Satta" riddim,classic...ma effettivamente siamo ormai
così sovraccarichi di "Satta",diciamo che comunque Leroy Smart non ha
una voce comune e secondo me vale spesa e ascolto.Invece in "Love in
their heart" Leroy spakka proprio "..wheter black or white we all a just
one nation.." e il ritmo,heavy roots ma di cui mi sfugge il nome,e' accompagnato da murderous fiati mixati in and out nella dub version
CHECK OUT THESE TUNES TOO
Perry in dub/Funky dub-Lee Perry-Jamaican rec. 10"
2 bad bull inna dub-The revolutionaries-Jamaican rec. 10"
Way out rockers/Keep skanking on dub-A.Pablo-Jamaican rec. 10"
Natty supper-Chantells-Phase One 7"
Darker than blue/Super love-L.Charmers/Jnr.Murvin-Blood&Fire 10"
Slipping into darkness/Street of Africa-Carl Bradney/Big Youth-Blood&Fire 10"
Starlight-Tony Brevett&Israelites-Motion rec. 10"
Crabwalking-Prince Jazzbo-Jazzbo music 7"
Per anni disponibile solo a prezzi stellari nei collectors' corner..
finalmente e' stata ristampata questa Dj cut della classica
"Skylarking" di Horace Andy...e non un dj qualunque but original Mr.Jazzbo.....imperdibile!!!
Whip them Jah-Dennis Brown-Ossie music 7"
Continua la ristampa dei classici di Dennis Brown e trattandosi di
produzioni Ossie Hibbert la qualità è garantita.
Low them-Mickey Simpson-Original Music 7"
Hungry days-Earl Cunningham-Original Music 7"
Hell's for hero-Fred Ijah-Original Music 7"
House upon a rock-Jnr.Delgado-Original Music 7"
Jah is the ruler/Beware-Jah Woosh/Trinity-Original 7"
Una manciata di ristampe sull'etichetta di ....e ognuna vale
la spesa:"Hungry days" e' un different vocal sul ritmo di "Jah give I love"
di Cornell Campbell,"Hell for hero" ha dei fiati murderous su un deep riddim,"House upon a rock" ha una linea di basso made by Roots Radics
da far tremare le montagne e "Jah is the ruler" di Jah Woosh e' un altro
vocal sullo stesso riddim uscito originariamente sulla Yard int.in 12",
"House upon a rock" ha sul B side la dub version mentre "Jah is the ruler" ha la DJ cut di Trinity....essential.
Who is the one-Donovan D-Techniques 7"
Who is the man-I-Roy-Techniques 7"
Produzione di Winston "Techniques" Riley finora conosciuta solo nella
dub version ed ora e' finalmente disponibile la versione vocale di
Donovan D.,deep vocal style,e la dj cut di I-Roy,wicked!!!
Give thanks and praise-Barry Brown-Attack 7"
Blessed dub/Cold hearted dub-King Tubby-Jamaican rec. 10"
Finalmente in ristampa,"Give thanks and praise" di Barry Brown e' la
classica Shaka tune,un heavy thunderous stepper made by Aggrovators.
Barry nel suo stile sufferah e heartical come sempre,che dire..Barry e Aggrovators prodotti da Bunny Lee sono sempre una garanzia!!!"Blessed dub"
e' una versione di "Give thanks&praise" con un intro con solo basso
murderous che gia' solo per questo vale la spesa,ma voci autorevoli
sostengono che King Tubby non abbia nulla a che vedere con questi mix.....
Holy Jah Jah-Mike Brooks-Teams 7"
Deep roots tune su un binghi-style riddim cantata e prodotta dal veterano
Mike Brooks recentemente apparso anche in italia in una serata organizzata
dal sound system milanese Golden Bass.
Keep it down-Ruddy T-
Different vocal cut di "Keep the pressure down" di Errol Dunkley uscita anch'essa in ristampa qualche anno fa sull'etichetta Fe me time.
Mr.President-Heptones-Hep Hep 7"
Produzione di Lee Perry in collaborazione con gli Heptones ristampata purtroppo senza versione...in ogni caso ve la consiglio comunque essendo
una canzone veramente tough "...oh mr.president listen to me,i got to tell
you about people poverty.."
This situation-R.Tomlinson-Munchie 7"
Heavy stepper di fine 70s prodotto e cantato da Raphael Tomlinson:
"..forward Marcus Garvey forward on ya,I have seen a lot of things that
you prophecized about oh I have seen children oh they suffer in the street can't get no money to spend,can't get no food to eat.." tune di spessore
da un artista che onestamente non conoscevo....se vi piace l'heavy roots
di fine '70s non perdetevela!!!
Africa awaiting its creators-E.Naphtali-Rootical dubber 7"

Exodus-Freddie McKay-Rootical dubber 7"
Burning Bush-T.Byfield-Rootical dubber 7"
Live not for vanity-Clive Matthews-Rootical dubber7"
No apology-Clive Matthews-Rootical dubber 7"
Finalmente ristampate queste tunes essenziali in ogni collection roots...Freddie Mckay ha una voce assolutamente killer e quando canta liriche come
queste lo penso come a uno degli artisti che preferisco "...take my hand oh Jah and walk trough this world wid I,they took InI from Africa and lead InI in bondage,take my hand oh Jah..",mixata da King Tubby con fiati enfatizzati che entrano e escono;
"Burning Bush" invece e' una classica soundz tune che celebra the "holyherb" uscita originariamente sulla FoxFire records sempre
in 7";"Africa awaiting his creators" e' un'altra chicca uscita all'incirca
nel '74 sulla Orthodox label e prodotta dallo stesso Ewan Naphtali in collaborazione con le 12 Tribes "...we a the people Africa is calling,
we a the people that Zion I is waiting,send my sons and daughters from
the end of the world,let everyone be called by his name Jah Rastafari...";
"No apology" invece e' una fresh release prodotta e cantata dallo stesso
Clive Matthews e mixata al Music Works;"Live not for vanity" invece e'
mixata da Scientist ed il ritmo e' "From creation" e bisogna riconoscere
che Clive Matthews ha stile anche quando canta "...live not for vanity my brothers,live not for luxury my brohers,live not for selfish game my sisters,for in the end you will be ashamed..."
Artibella-Ken Boothe-Sunshot 7"
Dreadlocks dread-Big Youth-Sunshot 7"
"Artibella" original Studio One riddim,ha una linea di basso così murderous
da essere stata rifatta in tutte le salse anche negli ultimi anni,ma questa proprio spakka,prodotta da Phil "Sunshot" Pratt,original man Ken Boothe e
sul lato B "Raw roots" di Bobby Kalphat inna murderous melodica style.
Ma quello che voglio assolutamente sottolinearvi e' la dj cut
dell'originator Big Youth "Dreadlocks dread" originalmente intitolata
"Keep your dread", che e' assolutamente un anthem "..living in this
land is pure confusion,all I see is pure frustation,we can not walk the
street all night in peace......lift up your head,natty know your culture,righteoussness stand,is always there,dreadlocks dread
natty dread natty congo,humble y'self and Jah will like that.."
...just buy it!!!
Righteous works-Earl Zero-Addis Ababa 7"
Jah Jah robe-Rising son-New Flower 7"

Angela Davis/Mandela-Jah Wally Stars-New Flower 7"
Peace chalice-Jimmy Dean-New Flower 7"
Mozambique/Frelimo-Jah Wally Stars-Addis Ababa 7"
Una manciata di ristampe di produzioni di Alan Campbell di cui alcune direi assolutamente essenziali ad ogni amante del roots+culture:"Righteous works" di Earl Zero disponibile finora solo nei collectors'corner a prezzi stellari,tune di spessore "...there must be some righteous works along the line,so many poor people on the street,wake up in the morning with nothing to eat,no food,no clothes,no place to sleep,that i man said,that it nah looks right,tears from mi eyes,there must be a better situation,cause every mouth must be fed,each+everyone must be..a change must come one day.." nah miss it!!!"Mozambique" e
"Frelimo" sono due versioni,heavy affair,di "Peace chalice" di Jimmy Dean
che ha una sezione fiati killer;"Mandela" e "Angela Davis" e' una heavy instrumental tune rough+tough;e infine "Jah Jah robe" deep vocal per un
ritmo altrettanto spiritual e con un b-side con bonghi altrettanto esplosivo,imperdibile.
Cool down sufferer-Icho Candy-Tesfa 7"
Classica Shaka style tune,digital riddim di fine '80s,true suffarah
style....miss it at your peril!!!!
Righteoussness/Every little thing-Willie Williams Soul Sounds 12"
Armagideon man-Willie Williams 7"
Give we bread-The Versatiles Soul Sounds 7"
Home sweet home-Willie Williams-Soul Sound 7"
Uscita a fine '80 sulla Black Victory in 12" e' stata ristampata "Home sweet home" a.k.a "There's no place like home",un thunderous stepper riddim essenziale per ogni roots+dub soundz che si rispetti e se vi piace Willie Williams...nah miss it!!invece "Give we bread" e' una produzione di fine '60/early '70s,100% suffarah style "..how can we go on,living such a life,we know we must be strong for us to survive,alright,we got to survive,
I hear a voice crying out,give me bread,give me bread,the children have nothing to live on,give dem bread..."; "Armagideon man" a.k.a "Righteoussness" e' una canzone dell'81 ristampata sia in 7" che in 12",
stesso mix on the b-side per cui vedete voi..
Freedom-Earl 16-Upsetter 7
"
You can run-The Hurricanes-Black Ark 7"
Finalmente ristampata,grazie alla francese Patate records,"Freedom" di Earl 16 inna Black Ark studio per questa produzione di Lee Perry veramente killer!!!Earl 16 con la sua splendida voce canta "..now we see Jah light,now freedom fight,now right ya,I tell you,give it to people,give it to people,freedom,now right ya.." su un heavy frantic stepper e sul lato B nuff dubwise da tenervi incollati al piatto fino alla fine della canzone.
"You can run" e' un'altra chicca del '76 apparsa su "Blackboard jungle dub" e finalmente
in circolazione,gli Hurricanes ti travolgono veramente come un uragano "..you can run,you can run,but you can not hide,you can run,you can run,but
you can not hide the destruction that's after you.."
da non perdere!!
Please officer - Earl Zero - Fatman 7"
Pablo in moonlight city - Augustus Pablo - Fatman 7"
What a great day - Lacksley Castell - Fatman 7"
Waiting in the park - Mike Brooks - Fatman 7"
Jah Jah we a waiting/Peace in the ghetto-J.Clarke-Fatman 7"
No wicked shall enter the kingdom of Zion-B.Brown-Fatman 7"
Finalmente uscite in ristampa dopo lunghi anni di attesa,Fatman-the roots+culture Dan,offre finalmente l'opportunita' a tutti i roots lovers
di poter possedere una copia a un prezzo ragionevole dell'intramontabile
Please officer+3 different versions di cui una e' la mitica Pablo in
moonlight city;e le tune imperdibili non finiscono qui...non perdetevi in particolare "What a great day" classic sound tune by mighty Lacksley Castell....ma anche "No wicked shall enter the kingdom of Zion" di Barry Brown,just heartical+suffarah style fe real..anche se in generale valgono sicuramente tutte la spesa...per cui non perdete tempo e contattate
il vostro shop di fiducia to avoid dissampointment quando poi le sentite!!!!
Herbist - Mike Brooks - Treasure Isle 7"
Il veterano Mike,singer e produttore fin dagli albori del roots,ci propone
una versione della sua "Rum Drinker" il cui ritmo e' anche conosciuto per essere una classica smokers' tune "Herbalist" di Roman Stewart e questa "Herbist" le assomiglia molto.....

Jah Jahovia-Ronnie Davis-Jackpot 7"
From creation-Barry Brown-Jackpot 7"
Cool pon your corner-Barry Brown-Jackpot 7"
Stop them Jah-J.Clarke-Jackpot 7"
Poor Marcus-J.Clarke-Jackpot 7"
You are no good-Ken Boothe-Jackpot 7"
Ites gold&green/Prophecy a fullfill-J.Clarke-Jackpot 7"
Nuove ristampe dal catalogo Jackpot prodotte
nella seconda meta' degli anni '70 , tutte suonate dagli Aggrovators e mixate da King Tubby. Ovviamente imperdibili per chi ama il Flying Cymbal style prodotto da Bunny Lee!!!anche la qualita' della ristampa è discreta. Tra le migliori Ronnie Davis che canta le sue righteous lirycs su una versione del ritmo Drum song ma anche Barry Brown specie con "From Creation" e come sempre Johnny Clarke valgono sicuramente la spesa.
Sky dub/Yard dub-Groundation 7"
Versione di "Skylarking" mixata da King Tubby in persona e se pensate non valga la pena di comprarne un'altra...sentite questo mix e poi fatemi sapere!!
Chant to Jah-Dave Robinson-Emmanuel music 7"
Let's chant to Jah...con questa esortazione Dave Robinson inizia la sua
lirica sul ritmo di "Lately girl" di Dennis Brown,per la cui etichetta
è anche prodotto. Sul B side incredibile sezione fiati mixati inna heavy style.

What are we-Donovan Joseph-Freedom Sound 7"
Company-Frankie Jones-Freedom Sound 7"
In the right way-Rod Taylor-Freedom Sound 7"
Children of god-Prince Alla-Freedom Sound 7"
Cities (with no pity)-Prince Alla-Freedom Sound 12"
Righteous works-Brent Dowe-Freedom Sound 7"
Ristampate dal catalogo di produzioni provenienti dal distretto giamaicano di Greenwich Farm per mano del produttore Bertram Brown ,una manciata di raw roots tunes suonate dai Soul Syndacate con i rispettivi Dub sul B side mixati da King Tubby stesso .Children of God e Cities non hanno bisogno di commenti essendo due pietre miliari del roots stepper di meta 70' cosi come In the right way di Rod Taylor o Company di Frankie Jones (per anni introvabile se non a prezzi spropositati); ma di What are we non ne avevamo mai sentito parlare (ignoranza nostra?) e nella quale Donovan Joseph afferma,rivendica e ricorda l'importanza della cultura Rasta:" what are we without Jah religion...what are we without Jah culture...dont tell me we have no history...dont tell me we have no king and no throne,oh nooo".Una monster tunes.Brent Dowe interpreta Righteous Works (una delle canzoni piu famose di Earl Zero) con maestria anche se l'originale è sicuramente migliore.
Melt away-Max Romeo-Charmax 7"
Valley of Jehsophat-Max Romeo-Charmax 7"
Wah you a go tell Jah seh-Max Romeo-Charmax 7"
Selassie I forever-Max Romeo-Charmax 7"
War inna babylon/fire fi the vatican-Max Romeo-Charmax 7"
Melt away è uno Shaka anthem che non ha bisogno di alcuna presentazione, 100% mid 70" conscious roots stepper music cosi come Valley of Jehsophat. Wha yu go tell Jah seh è una produzione Lee Perry registrata al Black Ark sulla base di Word of my Mounth dei Gaylads,mentre Fire fi the Vatican è una different vocal cut di War inna Babylon......essenziale in ogni roots collection. Selassie I forever è una produzione di Mafia & Fluxi gia uscita in singolo qualche anno fa.
Money Barrier-Leroy Brown&the Rebels-Rhythm gift 7"
Produzione di Robbie Shakespeare e Leroy Brown ,questo oscuro 7"
ha qualcosa che ricorda le migliori produzioni Bullwackies.
Un singolo imperdibile, militante e tuff.
"So many thing I would like to try so many think i would like to see........money is the barrier, money is the barrier"
Going the wrong way-Al Campbell-Reggae Road 7"
Jammin-Al Campbell-Reggae Road 7"
Feedback-Al Campbell-Reggae Road 7"
Tre ristampe essenziali in una collezione roots,in particolare la prima,a nostro avviso,una delle migliori produzioni di Phil "Sunshot" Pratt..."Jah Jah children following babylon going the wrong way....you better know y'self black children 'cause we a one...know yourself"...yes,militant e la linea di basso é così profonda che non ve la dimenticherete piu'!!! lo stile,cosi heartical e sufferah,con cui Al si esprime e' così profondo e potente da scuotere in profondita' anche un "heart made of stone".....original ghetto music!!!
Step it up-Barry Brown-Attack 7"
Trying youthman-Barry Brown-Attack 7"
Every knee shall bow-J.Clarke-Attack 7"
Blood dunza-J.Clarke-Attack 7"
Can't get enough of Bunny Lee music!!! just "step it up step it natty youthman"!!!!non perdete tempo classic tunes imperdibili finalmente in ristampa e se avete gia' "every knee shall bow" vi avverto che questa e' una different version inna one drop style.
Jah vengeance-Vivian Jackson 12"
God is wachting you/Pablo dread in a red-D.Burton/A.Pablo-Vivian Jackson 12"
Death Trap-Tommy McCook-Vivian Jackson 12"
King Pharaoh plague-Vivian Jackson 12"
Walls of Jerusalem-Vivian Jackson 12"
Yabby You è uscito lo scorso anno con una manciata di nuovi singoli tra cui la bellissima Walking on Jah light, adesso è venuto il turno delle ristampe dei 12" pollici che lo anno consegnato alla storia della reggae music e per le quali penso non ci sia bisogno di alcuna presentazione...nah messy around,just check it out!!!!!