PIANTE DI SICILIA - PLANTS FROM SICILY


---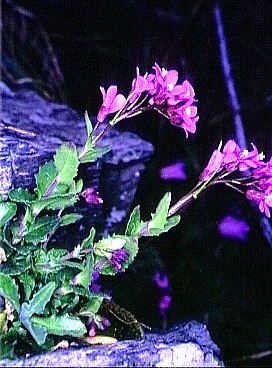 Arabis rosea DC. è una endemica trovabile sull'Etna, sugli Iblei, sui Peloritani e sulle Madonie.
E' distribuita anche nel Meridione d'Italia e in Sardegna
Arabis rosea DC. is an endemic growing on Etna, Iblei, Peloritani and Madonie.
It lives also in Meridione of Italy and Sardinia
Questa pagina non è finanziata da alcuna autorità accademica. Esprime la libera ricerca scientifica di ricercatori appassionati e indipendenti.
Per contatti usate il seguente indirizzo E-mail: girogiar@tiscalinet.it
Last updated on 22 August 2000
---
Sei il visitatore n.
---
Che cosa trovate su questa pagina:
What you will find on this page:
ITALIANO
1. Che cosa intendiamo per flora di Sicilia? Riteniamo che la flora più aggiornata sia "Sandro Pignatti, Flora d'Italia, Vol. I, II, III, Edagricole, Bologna 1982": su questa base diamo l'elenco floristico riportato al primo punto. Cionondimeno dal 1982 ad oggi si sono avute numerose scoperte di nuovi taxa in Sicilia, mentre altri sono stati ridefiniti. Inoltre oggi in Sicilia sono presenti esotiche o avventizie assenti nel 1982. E' quindi necessario aggiornare, nei limiti del possibile, il vecchio dato pignattiano. Ciò è stato fatto nel file in discussione, che contiene tutte le piante viventi in Sicilia aggiornate al 2000.
2. La pagina intitolata Piante nuove della Sicilia estrae le piante nuove dall'elenco del punto 1 e fornisce per ciascuna molti particolari descrittivi aggiuntivi. In altre parole per ogni pianta nuova è fatta una particolare scheda, nella quale si riporta anche il nome del segnalatore (o dell'autore, se trattasi di specie nuova per la scienza), la località di rinvenimento, l'anno di segnalazione (o di descrizione), la rivista di pubblicazione. Il curatore ha in mente di arricchire questo punto con un corredo iconografico.
3. Le segnalazioni del curatore rappresentano i lavori di interesse floristico prodotti dallo scrivente (sono dati in versione integrale).
4. Chi la ha vista? si riferisce a piante sconosciute allo scrivente. Questi sarebbe grato a tutti coloro volessero segnalargli località in cui la specie in oggetto è trovabile. Possono farlo indirizzando messaggi all'E-mail: girogiar@tiscalinet.it
5. La pagina Estinzioni tratta di piante o già estinte oppure gravemente minacciate e quindi in pericolo di estinzione. Viene prodotto un elenco continuamente aggiornato.
6. La Bibliografia riguarda tutto ciò che si è pubblicato sulle piante viventi in Sicilia.
PROGRAMMI. E' nostra intenzione in un prossimo futuro aprire una sezione sulla Storia della Botanica siciliana. Saranno graditi contributi di amici interessati a questo settore o segnalazioni di lavori pubblicati. Il ritratto di Filippo Parlatore, riportata a piè di pagina, ci ricorda costantemente la necessità di mantenere questa nostra promessa.
ENGLISH
1. What meaning must we attribute to the words flora di Sicilia?. We think that the best updated flora, as far as concerning Sicily, is "Sandro Pignatti, Flora d'Italia, Vol. I, II, III, Edagricole, Bologna 1982". On this basis we give here the floristic list about which we have said in the first item. However since 1982 we have had several findings of new taxa in Sicily, moreover some others have been redefined. Also nowadays some exotic and adventitious ones, not growing here on 1982, are spread everywhere. Therefore it is necessary, as far as possible, to update the old pignattian data. This has been done in the file which we are discussing on: it contains plants growing in Sicily according to the state of art of floristic knowledge on 2000.
2. The page entitled Piante nuove della Sicilia extracts all new plants from the list discussed in item 1 and gives for everyone many integrative particulars. In other words for everyone we have a specific archive-form, in which we report its binomial name, the name of its recorder (or of its author if it is a taxon new for the science), the locality of finding, the year in which it was found (or in which it was descripted), the journal (or book) in which the news was published. The curator thinks to enrich this item by an iconographic addition.
3. The new records by the curator page contains some works of floristic interest published by the curator (they are in integral version).
4. Has somebody seen it? concerns plants unknown to the curator. He will be grateful to that persons who shall indicate him some localities in which someones among this species live. They can address some messages to his E-mail: girogiar@wabi.com
5. The page Extinctions treats about plants or already extinct or heavily endangered and therefore in a serious danger of extinction. We give a list in permanent updating (we hope!).
6. The Bibliography concerns all already published in the world about plants growing in Sicily.
PROGRAMS. We want, in the nearest future, to open a section concerning the History of Sicilian Botanics. We shall appreciate contributions by friends of ours and scholars interested to this field of studies. The Filippo Parlatore's portrait reproduced at the bottom of this page remember us our promise.
.
Filippo Parlatore (1816-1877)
---

Girolamo Giardina è il curatore di questa pagina
Girolamo Giardina is the curator of this page
E-mail: girogiar@tiscalinet.it
Indirizzo (Address): Girolamo Giardina, Viale Lorenzo Bolano 40, 95122 CATANIA (Italy)
Telefono/Fax: 095-351996
Web home page: http://web.tiscalinet.it/florasicula

***********************************************************************