* * * IC8POF's Hints * * *

on building "a quasi" working 80mt band MORGAIN antenna.

As for all the things on this world, never say never.





Some months ago a friend of mine, IC8FBU Tony, has decided to put up such compact antenna as his garden lot is small.
Guessing and hoping that such folded antenna project could give him the possibility to do some activity also on the 40/80 meters band .
The above schematic, drawn by I4EWH Paolo, shows half of the antenna and its dimensions.

The picture below shows, not very clear, the why after lot of negative testing this antenna has worked.
Or why this antenna seemed to work on 80 with relative easy invention.

Here follows this incredible discovery.

The tuning of the antenna is done by moving the shorting straps along the wire.
Every strap has 2 needles soldered, so there is no need to remove the wire insulation.
As the tests proceeded there was no luck to get a good working point on 80mt.
After some time of ineffective testing, moving right and left the shorting straps, getting the wire pierced as a swiss cheese,
rising it up and down, a deep tuned point come up on the pc screen of the MiniVna analyzer program.

***WHAT*** ... *** HOW*** ...
After taking the antenna down for the Nth time and checking it for every strap point of insertion, in front of us was only an "open-strap".
We put it again in its hole and raised the antenna in place. Result no tuned point at all again.
The classic lamp "IDEA" switched ON : let us try to leave that strap OFF one side.
Result : the Morgain antenna worked with a sharp band window of about 10khc at an SWR of 1:1.8, but worked.

Here follows the mini-vna result for this arrangement, it works.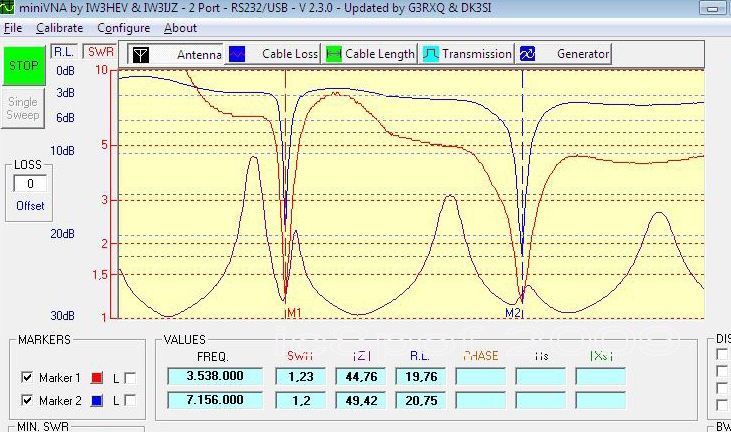 All went well and the 2008 winter operation has shown that the open strap has done a good job on both 40 and 80 meters..
73 de Tony IC8FBU.






set.08 - feb09 - mag.09