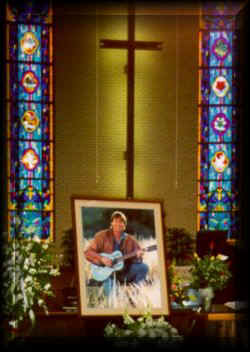 In this section you can find the complete transcription of the Memorial Services that took place after John Denver's tragic death both in Aurora and Aspen, Co. Also you will find some interviews to Annie Denver and Cassandra Delaney.
You will have the chance to read what all the people who were important in John's life said after his death. There are several touching passages and I learnt many things about him that I really did not know and I I think this is one of the most interesting place of my site.
The document is extremely long (I suggest you to print it) and, as said, lots of JD parents and friends spoke. they are listed here below. You can either read the whole page or click on one of them to "surf" in the section of the text where they spoke.
From the Aurora memorial service


================
Diane Cirincione
================

Speech at the Memorial Service for John Denver
October 17, 1997
Aurora, Colorado
Faith Presbyterian Church

Hello, I am Diane Cirincione and this is Jerry Jampolsky. I
feel like these last couple of days and today, Jerry and I
have been here, like millions of other people that would have
liked to have been here that are listening in or seeing us and
each one of us have our own story in our hearts whether we met
John or not. There is a place he holds in our hearts. There
was a woman on tv in California, she was lighting a candle and
laying flowers at Lover's point, and she said to the camera
person as tears were rolling down her face, she said, "You
know, I always wanted to get to know John Denver, to meet
him, and I never did, but you know, he lives inside a part of
my heart and he always will." And, I think she really spoke
for hundreds of millions of people around the world. I wanted
to share her story, because each of us has our own story where
each of us came to know John, how his music permeated through
the years. What I've come to realize over time, it was so
more than the personality, more than that incredible boyish
way, you know, that grabbed our hearts and holds it forever.
I think it was more than John's talent of singing and writing
songs. What I've come to realize, which came from my own
first experience, is that John held a vibration, a unique
vibration in his voice that sang and resonated beyond time,
beyond culture, beyond religion, beyond hatred and into the
hearts of people. And I believe that that vibration in his
voice was a divine gift, and that's the way that we heard him.

On a little country road in Northern California, many many
years ago, I was driving my car and the radio was on and this
song began, I never heard the voice before, I wasn't really
paying much attention, and all of a sudden, I thought, someone
is singing about the sunshine. Sunshine, which I love so much
and the warmth in our hearts and sunshine on my shoulder and
of course the sun was beaming down on my shoulder. Before I
realized it, there were tears running down my eyes and my
cheeks started to get really wet and I began to sob and I
didn't know why. So much so, I had to pull over the side of
the road and I just wept. And I went, "What is happening,
what is this, who is this person?" And afterwards, they
announced it was "Sunshine on My Shoulders".And at that
moment, I knew it was beyond a person or a singer, it was a
call to wake us up to remember all those things around us.
The earth and each other and the spirit that lives within each
one of us.

Jerry (Jampolski) and I had the sacred privilege, 2 days ago,
of traveling with John's ashes in his last journey. We went
to Monterey and I want to share a little bit of this
journey with you, so you can hold it in your heart too,
because it was a very sacred journey for us. There wasn't a
moment in those 8 or 9 hours that Jerry and I didn't hold
John's ashes very closely to our hearts or in our laps and as
I was walking out on the ramp, in Monterey, this place that
John loves to fly so much out of..he loves that county. In my
mind was a dialogue of saying goodbye, saying, come on, okay,
it's time to leave California, to come on back to Colorado on
your way, going on to eternity. And on the ramp there was this
incredible sense of John's presence and as the plane took off,
out of Monterey airport, just like John had done a few days
before, we took off over Lover's Point, and at that moment, I
reached down in my consciousness and I said, John, if any part
of your spirit is confused here, come with us, come let us
take you up and bring you home. And as we went around, down
the coast of California, The sun was blazing through the
window. It was blinding and it was shimmering off the water,
and I gently in my mind, quietly sang "Sunshine" and as we
took off out of Los Angeles, I said, "John, it is really time
to leave California" and I felt is was okay, I felt he was
really there, leaving his life there and his time there. And
I looked out and there was with this giant jet engine and I
thought of "Leaving on a Jet Plane". We came into Colorado
late at night and it was dark and you couldn't see anything
and then all of the sudden the full moon was there and the
Colorado snow capped peaks shown like diamonds out the window
and there were the Rockies, and it was a time to say goodbye
to the Rockies. We really felt John's spirit. We feel it
here now. We feel his incredible awestruck essence saying,
this is some journey, saying something like "Far Out." A
journey we will all come to know. As we brought him home, we
bring him home to his mother Erma, an amazing being. No
wonder John turned out like he did. His brother, Ron, his
children, those people who have come to know and love him,
Annie very especially. All those who knew John and were close
to him, those that never knew John in the body, but know him
in the spirit, we bring him home And I leave you with these
last words, that we shared with John, Jerry and I, when we
were on top of a hill in California at least over a decade
ago. We were flying kites like a bunch of kids, and we did a
meditation there and I shared these words that I had written
and they brought tears to John's eyes and he said he really
loved them. I say this to each of us, family and friends, if
you can think in your mind, in reaching out to John, reaching
out to his essence and saying, Come take my hand as we walk
through time to a place where none exists free from matter to
fuse in the light and communion forever more.

===============
Jerry Jampolsky
===============

Speech at the Aurora, CO
Memorial Service for John Denver
October 17, 1997
Faith Presbyterian Church

I asked John's mother yesterday of all the many memories that
she has what one or two memories might pop up first in her
heart. the thing that popped up was when John was about 4 1/2
years old and Ron was born. John went around the neighborhood
and told everyone that they got Ron through the Sears and
Roebuck catalog. You see how creative he was even at that
young age.

You know the shock and the suddenness of John's death and as
each of us do our individual grieving at the loss of his
physical presence. It behooves us to ask the question once
again..What is life? What is death? What is the purpose of
life? Is life simply that we are born in these bodies and then
we die and then that's the end of life. Or are we spiritual
beings, are we light beings that live forever?

Certainly John believed the latter. We've been blessed at the
Center for Attitudinal Healing in Sausalito, California. We
work with children who have catastrophic illness. We have
wonderful teachers who have another way of looking at life and
death. The first child that died in our center in the mid 70's
was a boy named Greg Harrison who was about 11 years old. He
knew he was about to die and one of the boys asked him "What
is it like to die?" What happens is that you simply discard
this body which was never real in the first place and then you
are at one with all souls. And sometimes you come back and
act as a guardian angel to someone else. There is no question
that Greg is acting as a guardian angel for me and there's no
question that John will be there for many of us, always being
there for us whenever we're going through some rough journeys,
helping us along on our journey.

There's another boy named Bobby and I asked him... he was
close to dying - what advice would you give to other 14 year
olds who might be in your same circumstance. He said...You
ought to tell the children that as long as they are breathing
- no matter how sick they are - their purpose in life is to
love and to forgive. Perhaps it is another time to allow John
to teach us again what we are here for, what life is all
about. We also have countless stories of how many times John
eagerly helped children and adults who were in terrible
difficulties.

I'll tell you just one story about Sister Ada
who was about 5 feet tall. She was in a cloistered Carmelite
Convent in San Diego, CA. She had cancer. I had been seeing
her for a couple of years at that time. This one
time I was seeing her and her cancer had gotten worse. We
started talking about music and it turned out that John was an
idol of her's. She told me what Diane and everyone knows that
when you hear John's voice what you experience is the peace of
God being present. Later I was with John and shared the story
about Sister Ada and he got on the phone and called her. That
was the most important telephone call Sister Eda ever
had. She went on telling everybody- JOHN DENVER called me and
we talked about music. We talked about love.
We talked about God. She wasn't thinking about herself having
cancer at that point. John wasn't always gentle. He could be a
tough teacher of love. He was a tough teacher of mine one
time and again this was in about the mid 80's and he asked me
if I'd like to go flying that day. It was going to be in a
bi-plane and all of a sudden he was putting on the snoopy
goggles and I remembered that I think people do stunts in bi
planes. We were up flying would it be alright to do a few
stunts, he asked. I was really scared but I didn't say so.
All of a sudden it turned out to be tremendously fun.
I had a great time. Then he was flying and he said "I'm going
to turn off the speaker system so that you can't talk to me
but I can talk to you." All of a sudden we were flying this
way and he said "I just want you to have the experience of how
gentle this airplane is." We leaned to the right going down
just a little bit. And he said "I want you to put your hand
on the throttle and turn it right." Meanwhile I was trying to
shout to him that I was dyslexic and I didn't know my right
from my left side. My God, what are you doing? He wasn't
doing anything and all of a sudden he cured my dyslexia. All
of a sudden I was turning to the left and I was turning to the
right and I found that I really did know the difference
between my right and my left.

I have been asked to read a letter from former President Ford
to John's mother:

"I would want all the family and friends of
John Denver to know how much his friendship
meant to Betty and me over many years. Our common
love for Colorado created a bond between us that will
always remain special in my memory and whenever I hear
the beautiful music that John provided to us all.
John left much sooner than he should
have. We have the comforting thought to know that his
music will last many lifetimes.
With our deepest sympathy"...Gerald R. Ford

Two nights ago when Diane and I were with John's mother and
family. It was mentioned that she had her 75th birthday on
August 7th, and John had written a letter for her. I read the
letter aloud and it was the most beautiful letter that I had
ever read, that a son had written his mother. It was so
healing to everyone that night that we thought it would be
very helpful to read this letter this morning.

"My dear mother. I have wanted to tell you today
how very much I love you. I wanted you to know
how much you are respected and appreciated by me.
That I know how big your heart is how much you
feel and how much you care. There are times that
I wish I could take you in my arms and hold you
in a way that would make you feel loved and cared
for - that you would feel safe and warm and really
appreciated for the wonderful woman you are.
That you would feel understood and respected for
all the things that you do. That you would know
that someone else knows how much love you have
given of yourself beyond measure - time and time
again - not only to Dad and Ralph and Ron and me
but also to our families and to so many others.
I wanted you to know what a blessing you have
been in my life, and through me to so many others.
I would not be the man that I am, nor would I be
able to sing the way that I do nor would I have
written the songs that I've written without the
influence and the inspiration that you have been
to me. I want you to know that today
there are hundreds if not thousands of people who
join me in saying..."God bless the day that you were
born. Happy Birthday, Mom - and many more.
I love you."
Your son, John

What purity of love as John writes from the inner linings of
the soul and his heart. What can we learn from this and John?
What can we learn in this tragic moment? Well, perhaps we
can ask ourselves the question. John knew without question
how much his Mom loved him, and they knew how much they
loved each other but there may be many of us today who do not
have that kind of healed relationship. Would it be possible
in the next 24 hours that we might get on the phone, or write
someone that we haven't really, completely said how much we
loved them. And wouldn't John be chuckling, and belly
laughing and approving if we just made that one difference. I,
like Tom and so many others really feel John's spirit here
today and I know it is always going to be in our hearts. I
know that his music will continue to affect millions and
millions of other people. Knowing that his music really
releases the soul to be free to soar. John knew that he was
an instrument of God's love. So may we learn from John how
one person can really make a difference, how one person can
demonstrate how much and how tenderly he loves nature and the
planet earth. And may love be the way that we walk in
gratitude in our own pathway and return that to John for all
of the love that he has given to us. We love you John.


=============================
Abraham Lincoln Deutschendorf
=============================

Speech at the Aurora, CO
Memorial Service for John Denver
October 17, 1997
Faith Presbyterian Church

I'm going to have everybody stand up. You've been sittin'
quite awhile. If everybody would just stand up and let
those cells spread out a little bit and in the other places
also if you would do that and turn to the person on your left
and on your right and say "You really have been patient. I'm
impressed with your patience during all this." Now if you all
will go ahead and have a seat. That didn't take long and let
me tell you who I am.

"I am Abraham Lincoln Deutschendorf. I was born February the
12th and with ten boys in the family, they were running out of
names. So, I got tagged with Abraham Lincoln Deutschendorf.
I am one of Ron and John's uncles. As I said, there were ten
of us boys and if I talk too long, one of my brothers back
there are going to dong me, so I need to really get into this.
I love John and I know all of you do. I have never come into
a church that I felt had so much love in it. I felt this
several years ago where we did the celebration of John's Dad,
my brother's service and some of you all may have been her for
Dutch's service. It was an incredible celebration. You know,
funerals are too sad, I think, and memorial services are too
sad and parting is sad. There is no question about it, but it
is my objective to give a tribute to John and to add to these.

All of you all have absolutely blessed my heart with your
testimonies about John. My nephew, Henry John Deutschendorf,
John Denver.. He loved life and thoroughly enjoyed, through
his music, helping other people to enjoy life. When I think
of that, of his passion to help people enjoy life, I'm
reminded of a little boy's prayer, and Ron I've prayed this
prayer and I really think John did and I think you did too:
This little boy was praying to God and he said "Dear God, If
you can't make me a better boy, don't worry about it, I'm
enjoying being like I am."

John also personified the prose, the station. Indias, the
author, depicts life as like a train trip across the United
States where our objective is to get to the station. When we
get to the station we're going to enjoy life. We put it off
until we realize all of our goals - 'til the kids get through
college or 'til we make all the money we need to make or
something and sooner or later. And John found this out. There
is no station. The joy is in the ride. We need to stop and
smell the roses and enjoy life now and not later. Some of you
all may be looking for the station, it's not there
it is the ride. So I just wanted to say that John's attitude
and personality has really
been a blessing to the Deutschendorf family. Let me give you
a touch - a word from the heart that personifies this. My
brother, Paul, is back there and a number of years ago, John
came with Zachary and Anna Kate and he brought his guitar and
we were singing, right after Thanksgiving and I went to pick
up my mother, Grandma Deutschendorf, who was in a nursing
home. I could jerk a seat out of my van. We just lifted her on
the van. We sang and John sang, for about two and a
half hours. By the way, we've got a home video of that, Ron if
the San Hedran wants to make a library to keep the memory of
John alive we'll donate that and a lot of other things. I
think that might be a good idea. But let me quickly get to the
point I want to make about John and family: Grandma
Deutschendorf - Grandma Swope, Erma's Mom, is the one that
gave him the guitar that got him started on this. But here we
are and my mother's hands had arthritis so bad, but good gosh
she clapped but she got tired and we were taking her..Paul
and John and I were taking her... back to the nursing home.
John got down on one knee and got right up close to her and
put her hands in his hand and he said "Grandma Deutschendorf,
you are a very special lady and I love you very very much and
I wish...(this was right after Thanksgiving)... you have the
Merriest Christmas you've ever had. Now I'm not going to be
able to come back for Christmas," and then he reached up and
kissed her and I guarantee you it just blew her away! She
really.... that was the kind of guy that John Denver was. He
was a charismatic person. He would walk in the room and you
could actually realize that and feel that. John sang from
the heart and not simply from his intellect. He sang from the
heart. I'll tell you something else I can relate to John about
and maybe some of you can also and it certainly does not
include this church, but there may be some members in this
church who had this problem. I had it once and that is that
John, like myself, and like some of you all, was turned off by
a cold, calculating religious rigorous rules of religion
but - now listen to me now - Religion will never bring the
inner joy and the inner faith and John discovered that. It is
a relationship that does it. It is a relationship. You know
the great apostle of love in the New Testament, John, said
that he that hath the Son has life. That speaks about a
relationship. If you have been turned off with religion let me
encourage you to keep looking as John and many of the rest of
you have and find the deeper meaning of life through a
personal intimate, vibrating relationship with the Son of God.

In closing let me say this: All of us have been touched by
John Denver's three loves - pursuit of peace, alleviating
world hunger, and impacting the environment. and I
say it's time for us and it's time for the rest of America to
step up to the plate and use our influence and all of us have
that. Let me just close with this little poem which I think
epitomizes what John did and what you and I can do: If you
would sense the past, touch a stone, if you would capture the
moment, touch a rose, but if you would glimpse the eternal,
then touch a life. John Denver, thanks for touching my life
and the lives of family and friends, God bless you.


==========
Lynn Twist
==========

Speech at the Memorial Service for John Denver
October 17, 1998
Aurora, Colorado
Faith Presbyterian Church

"My name is Lynn Twist and John Denver was my friend, our
friend. My husband, Bill and I knew John for almost twenty
five years, about half of our life. We can't image the
world without John Denver, nor can we imagine life without
him.
I was talking with another friend, Ras Gracie, and he talked
about what it meant to have John as your friend and I want to
say a little bit about that.

When John was your friend, you had immense power, not because he was a celebrity and was known all over the world, but because he believed in you, he believed in his friends. If you shared your dreams with him, it became his dream too. He stood for the highest and the best in all of us and called on us to
express it and held us to account for it. I worked with John
for the last 20 years in The Hunger Project, an organization
and global movement that he co-founded twenty years ago that
is dedicated to ending world hunger. The President of the
Hunger Project, Joan Holmes, could not be here today, but
asked me to send a message for her which I will read in a
moment. But Joan Holmes and I - we forged the Hunger Project
which is now a worldwide movement of millions and millions of
people. We forged that with the magic of our friend, John
Denver and his capacity to believe in us, the people of Hunger
Project and the highest aspirations and best qualities of
people all over the world. I speak here on behalf of Joan
Holmes and the millions and millions of participants in the
Hunger Project around the world when I say twenty years ago
John Denver took a stand for a world where all people would
have a chance to live a healthy and productive life - a hunger
free world - a world in harmony with nature. At a time when
most people had no idea of the extent of hunger on this
planet, much less that they could make any difference in
ending it, along with his fellow founders, John created the
Hunger Project. John was a tireless spokesperson for our
work. He sang for the Hunger Project. He invested money in
the Hunger Project. He raised money for the Hunger Project. He
traveled with us to Africa. He traveled with us to India. He
walked through the slums of Bombay with us. He served on the
Board of Directors with us. He visited and honored Hunger
Project volunteers around the world. He testified before
Congress on the issue of hunger for hunger legislation. He
wrote songs for the end of hunger. He used his public image
to bring attention to the issue of hunger time and time again
over these twenty years. People followed John's example. He
gave them hope. He gave them strength. He gave them
inspiration. From the poorest African farmer to the slum
dweller in India, to the wealthiest investor in the United
States, Europe or Japan, John Denver demonstrated what it
means to have a vision and be committed to it, and be willing
to work sustainably and untiringly to make it a reality. John
gave us all, including the billion hungry people on this
earth, a voice so eloquent, so true, so authentic, that the
world had to stop and listen. In the midst of our own sadness
and loss, we in the Hunger Project are committed to finding
within ourselves the immense gratitude for John's life and the
magnitude of his contribution to our world. We celebrate his
life and his greatness and we rededicate here today, ourselves
to fulfilling our shared dream and vision and his own personal
planet - the end of hunger on this planet.

Now I want to read a quote from another dear friend, Neil
Rogan, who was with my husband, Bill Twist, and John, the day
that he died playing golf. They had a great day.

"It is said, and John believed that the earth, Gaia,
is actually a living and conscious being and if you
listen carefully, you can hear her singing. And if
that's true, she is clearly singing a John Denver
song."

John was a man with the soul of a poet and the voice of an
angel. His songs have moved billions of people and changed
millions of minds.

They have this power because they are beautiful and they are
true and whether they speak of our injustice and insanity or
our love and our humanity, they give expression to the common
yearnings of the human heart in a race for the moment, the
illusion that we are separate from each other and from life.
I know I speak for everyone when I say how blessed we have
been to have him here with us - and by "here" I mean Planet
Earth, and by "us" I mean the human family. God bless you,
John, and thank you for including all of us in a life so fully
expressed. Thank you.

=================
Ron Deutschendorf
=================

Speech at the Aurora, CO
Memorial Service for John Denver
October 17, 1997
Faith Presbyterian Church

"My name is Ron Deutschendorf. A lot of people have told you
about what a good man my brother is. I say is, because he is
my brother. The only thing that has changed is that he is
only with me in spirit now instead of on a golf course, where
we'd like to be or flying in one of his planes. He was a
typical big brother, antagonizing me at every opportunity.
I tried to get back at him, if I was the first one up, Dad
would tell me to wake him up and I would hit him as hard as I
could with a pillow and he would catch me, but not until I
would get just into dad's view....but he, of course, got back
at me, pretty much ever since!

My son had gotten hurt, I had told him about it and John was
very excited and happy and things were coming back around, he
was just so happy and about a week later, I was out of town
and he called again and on our answering machine it says "Hi,
you have reached the Deutschendorf's and our mission is
fulfilled...John, of course, left a message and because I feel
he is not only my brother I want to share this with all of you
now:"

John's voice on tape: "Goin' back to your own
planet huh?....(John laughs heartily)....This is John
callin', just checking in, wanted to see how your boys
doing....(more laughter)"

I tried, in choosing the music for today's ceremony, through
the help of his many friends, we tried to pick songs that
would communicate how he felt about this specifically. I
chose this next song to show how he felt about his fans, his
audience and his friends, his family and I think it especially
applies, because it certainly applies to how I feel and I'm
sure how many of you do. I want to thank all of you for your
kindness and I hope everyone will help pick up the
responsibility. I know you are here John, I love you."


Annie Denver transcription from TV


==============================================
Annie Denver on Private Eye With Bryant Gumbel
==============================================

Bryant - Introduction:
As many of you already know, John Denver was killed Sunday
when he crashed his plane off the northern coast of
California. He is survived by three children and by Annie
Denver, his ex-wife who he always said was the love of his
life. She is with us live, grieving in Aspen, Colorado.

Bryant: Annie, Good Evening.

Annie: Good Evening, Bryant.

Bryant: How are you and Zachary and Anna Kate doing?

Annie: I think it comes and goes. It's been really tough
(her voice breaking), but if you've ever been
through something like this before it's like you don't have
a choice. You go through it and it is just really
unbelievable.

Bryant: Though you divorced some time ago, you and John
remained the best of friends. How do you explain that?

Annie: Well, it's sort of an interesting story. I wouldn't
say we were the best of friends. Because when people get
divorced they divorce for various reasons but the thing,
Bryant, that I feel really good about and I think that our
children feel good about is that when the crunch came for
both of us over time that we were always there for each
other. And I learned a lot about forgiveness in my
relationship with John, and our relationship really covered
the gamut of a lot of different emotions and a lot of
different stages of life. It's been a real gift for me and
even more so now. I really get that.

Bryant: He was a very romantic guy. I think you could listen
to his songs and know that...

Annie:
Very romantic guy...

Bryant:
And yet you have referred to him as a very complex man; a
man who was lonely a lot.

Annie:
I think John grew up longing for something. He grew up in a
family and he was very loved but there was a lot of moving
around. He was in the Air Force and he was sort of an odd
little kid. He said that playing a guitar was the way he
made friends and I think people tended to simplify John
because of the simplicity and eloquence of his music. But
that he was a very complex man. There was a very sad, sad
part in John and it's really the part that the music came
from. Is that understandable?

Bryant:
Yes, it's very understandable. He found solace in his music
and he found expression in his music.

Annie:
That's right.

Bryant:
Let me talk to you a little bit about....
(Sensing that Annie had something to say he said)
..Go ahead.

Annie:
One of the things I had said before, John was a romantic in
the very best sense of the word and the world can be hard on
romantics. I think as he got older he became much more
realistic in terms of what his life was about and I think he
had settled into something, Bryant. I think the biggest
thing that I feel good about and that the kids feel good
about, and that his friends feel good about is that he was
feeling really good about himself the day he died. He was
excited. He had played golf on Spyglass and played well and
had had just a really great day. And he had had some real
good conversations with people he cared about in the weeks
prior to his death. He went out full throttle it sounds
like. He would have liked that, by the way.

Bryant: Oh, he would have. I know he would have. Let me ask
you something; a couple of quick questions about his flying.

Annie: OK

Bryant: He walked away from one airplane accident in 1989 in
Arizona. Did he ever express to you any of his own concerns
about safety in the air?

Annie:
No - Not to me. But then we had been divorced by then so he
may have to other people. John was pretty fearless. I
guess what I'd like people to know too was that John wasn't
afraid to die. He talked a lot about death and he talked
about.. He had a whole philosophy in terms of....

(John's "High Flight" is playing in the background)...

Hmm...I'm listening to music. Umm.... He wasn't afraid and he
really lived his life 100 percent. You know there aren't a
lot of people who do that. I would say that I don't think
John had any regrets. I really don't.

Bryant: Let me ask you this. It's come to light that the FAA
had asked John to stop flying a year ago after learning he
had been involved in two alcohol-related auto accidents. He
didn't respond to several certified letters asking him to
voluntarily surrender his FAA Medical Certificate. How
come?

Annie: Do you know what, Bryant? I don't know anything about
that. I'm not the person to ask. Other people that fly
with him or other people in his organization could answer
that better than I can. I don't really know and you know
really...today... I don't really care.

Bryant: He wrote "Annie's Song" for you in 1974.

Annie: Yeah

Bryant: Can I assume it was your favorite John Denver song?

Annie: Actually, it's not. I feel very blessed by the song
and I still cry when I hear it and it's really beautiful
and so many people have used it in their weddings. But
my favorite John Denver song is a song called "Perhaps
Love" that he did with Placido Domingo.

Bryant: We'll have to race home and listen to it.
Annie, it's been a difficult time. You have our sympathy
and our prayers.

Annie: Bryant, thank you, and can I say one thing?

Bryant: You sure can.

Annie: There has been an incredible outpouring of love for
John and support. He would be totally amazed by this. It's
something he really has longed for since he was a little
boy and he had gotten bits and pieces of it.

Bryant: But he never really knew how much people loved him.

Annie: He never really got it. And it's all right here for
him. And, he was a good man, Bryant.

Bryant: We know that. Annie, Thanks. Best wishes.

Annie: You're so welcome.



CASSANDRA - TV INTERVIEW TEXT

============================================
Cassandra Delaney Denver on American Journal
February 23, 1998
============================================


Cassie: He was a romantic soul... all the flowers and the
beautiful words and beautiful songs and the poetry.


AJ: At her BelAir home, Cassandra told AJ about her turbulant
marriage to John Denver, his bouts with depression and
the day of his tragic death.

Cassie: It was, ah, the most devastating moment that I've ever
experienced.

AJ: 53 year old Denver was killed when an experimental plane
he was piloting crashed in the waters off Monteray
California. Ironically, the same day, Denver had
arranged for his 8 year old daughter, Jesse, to visit
Disneyland. She'd spent the day at the happiest place
on Earth. Hours later she would learn the saddest news
in her young life.
Cassie: Of course she was devastated. And it was, ya
know...broke my heart, and broke her heart.

AJ: For Denver, his daughter Jesse held a special place in his
life. A year after he married Cassandra at an outdoor
wedding in the summer of 1988, she gave birth to Jesse
in their Rocky Mountain hide-a-way in Aspen, Colorado.


Cassie: He, ah, took Jesse out into the world and sang to her
as soon as she was born.


AJ: Since Denver's death, Cassandra, a student in martial
arts, has reportedly been in a nasty fight over
Denver's estate. People magazine reported that
according to Colorado law, Denver's estate will be
divided equally among his children and "this is not
sitting well with Denver's second ex-wife and the
mother of Jesse Belle, Cassandra Delaney".

Cassie: (with a smug little smile on her face) I'm deeply
offended and hurt and enraged by the whole situation.
I have no interest in taking over John's estate.

Another segment includes AJ taking Cassie to Aspen;
meeting the mayor and how John taught Cassie to ski
and love the wilderness.

AJ: But here in the spectacular Rocky Mountains the Denver
marriage went downhill. Why do you think your marriage
ended?

Cassie: Things got difficult. And, and, ya know, we found it
difficult to communicate to each other. The resentment
starts to build up...


AJ: 3 years after they married,Cassandra and Denver seperated.
They divorced 2 years later, amid reports of Denver's
heavy drinking and two arrests for drunk driving. Was he
an alcoholic?

Cassie: John was a workoholic, not an alcoholic! He, um, he
worked so much, he gave so much. And, yes, he loved to
drink.

AJ: It was never something that you thought was a problem?

Cassie: No. I mean, there were many times when John gave up
drinking for months on end. And, ah, then there were
many times when he drank, ya know, his fair share.

AJ: In public this gifted guitarist who gave the world songs
like "Rocky Mountain High", gave no hint how low he felt
in private. After years at the top of the charts, his
new music wasn't popular anymore, and, according to
Cassandra, he was battling severe depression.

Cassie: I think it was depressing for him, ya know, to not
have his music played anymore on the radio. Because his
music was still just as good.

AJ: Athough Denver remained in touch with Cassandra after
their divorce, she says they became closer in the months
before the deadly crash. For the first time since their
divorce, Cassandra began wearing the wedding ring Denver
had given her, and wears it to this day. You
never stopped loving each other?

Cassie: No. We were great sparring partners, but we didn't
stop loving each other-- NO!

AJ: Just two weeks before Denver's death, the former Mrs.
Denver says she phoned him and suggested they get back
together for the sake of their daughter, Jesse.

Cassie: I realized that I was incredibly sad, that we weren't
together for Jesse, and that I still loved him. And, ah,
but I know he still loved me. And he said, "I'm just so
proud of you. And I'm so excited for Jesse, because she
deserves this."
AJ: Their reunion never happened. Two weeks later Denver was
dead.

Interviews with fans at the memorial service


AJ: At the church service, Cassandra learned that Denver had
not forgotten their final phone call. She says that
Denver's friends told her that they had never seen him
happier than in those last few days of his life. Was
there anything you felt was left unsaid between you two?

Cassie: Oh, I think there was probably a lot of things left
unsaid. But, I'm very grateful that I got to say to him
and tell him how I felt about him.

AJ: For now Cassandra is helping her daughter deal with the
loss of her famous father. And there's one story
Cassandra will never forget about her late husband: a
conversation about a plane crash that now
seems hauntingly prophetic.

Cassie: That's how he said he wanted to go. Ya know, like..
"If I go I hope I go in an airplane", because his
greatest joy was being in the air and flying. And so he
went the way he wanted to go.

AJ: And on Monday, the tallest ski run in the state of
Colorado, in Aspen, was named Rocky Mountain High in
honor of John Denver. A great tribute to a very talented
young man!!

From Aspen, Colorado, Saturday, October 18, 1997

"A Celebration: The Life of John Denver"
========
Tom Crum
========
Aspen - Opening

Good afternoon, I'm Tom Crum. On behalf of John Denver's
family, his close friends, all the people who have supported
him over the years, we want to thank you so much for joining
us on a very, very special day - on a day only God and John
could have created. It's time to celebrate a really great
spirit. You know every so often there walks among us a person
who truly inspires - who touches us so deeply because of their
gift that the best of us shows up. And that's who it is we
are here to celebrate today. I know there were some people at
the service yesterday - most of you weren't - so for those of
you who were, if I tell a few thoughts that I did yesterday, I
know you'll understand. I think they are important. I know
John never minded telling a few stories over again.

One story specifically is so important because it happened
right here - it happened in Colorado. John Kelleher was a
12-year old boy about 17 years ago who died. He was one of
the most loved members of this community. My kids went to
school with him. I know Zak and others went to school with
him. He did most of his life in a wheelchair and died at the
age of 12. At his memorial service there were tears of
sadness. But when John Denver stood up and spoke, he talked
about the need to celebrate the incredible inspiration this
boy was. And he talked about this Halloween night when you
couldn't keep this young boy down and he went out
trick-or-treating in his wheelchair as a washing machine. Now
I've got to tell you something - we've recently talked to John
Kelleher's father, John Kelleher, and we asked him about the
incident. And he said "No, that's not true, Tom, he didn't go
as a washing machine." I went "Oh, no."
He said he went as a phone booth and then he said he went as a
race car. "Then I think he went as a - " and I said "It's
O.K., a washing machine will do."

John's ability to make sure that we commit to life, that we
commit to celebrating what's important was there - and that's
what we are here to do today. And we couldn't do it in a
better place. This place was John's home, with the outdoors.
John loved a campfire, he loved to have people around. His
link to indigenous cultures was so strong - for the American
Indians sitting around in council and just telling the truth.
That's what he was about. That's what he sang about. And
that's what we are here to do today - it's poems, it's
prayers, it's promises - to a great spirit.

John blossomed in weather like this. When John was in these
mountains I mean that was the spirit he married. It didn't
matter where he was - flying or swimming or fishing or
whatever he did. As I mentioned yesterday, jumping off cliffs,
it's the grottos, you know, Devil's Punchbowl, a 30-foot
high cliff. We jumped but John dived and John always said
"Going head first is safer." He did. I never understood it.
John went full on, didn't he? He was full on everything he
did. People who are here, people you will see today, some of
them will play music for you today, there's people who
traveled with him for years, his family who lived with him. I
mentioned it yesterday John wanted to do everything and he
darned near did everything. And he made a mess out of us in
the process. He really went for it, absolutely went for it in
life. The guys in the band, all of them are here, and the guys
who sang in groups with him that are here today, so many of
them. You know what those tours were like. We had a tour with
him and we did 80 some cities in 90 some days. We called it
the tour from hell. John was great. We were a mess. Now
John's gone. He's still great. He's fine. We're still a mess.
The thought occurred to me that we're still on tour. We did
something in Denver yesterday and we're here today.
(laughter) Full throttle...as Annie said. You've skied with
John - so many of you have skied with John. If you skied with
him when he was on those full throttle days. I guarantee you
his speed of skiing far exceeded his level of skill.
(laughter) His wipeouts could block out the sun for days.
We skied behind him a lot because of that. Anna Kate and Zak
know that he wore those ridiculous yellow ski pants and that
green and pink hat cause I don't think John really cared what
he looked like and what equipment he had on. He just wanted
to be up there. You just didn't want to be in front of him.
Like riding a bicycle down Independence Pass in front of a
Mayflower Moving Van. We want to keep it light today because
John would want to keep it serious and there was a truth in
the seriousness of him. What a man this was - what an
incredible spirit. And you know when I mentioned skiing. He
didn't just ski fast. He loved to take beginner skiers up
there. John was never more happy than when he was taking
Jesse Belle skiing. He also.......somebody told me yesterday
that today would be much easier....but I know also that he was
never more happy than when he tucked you in at night. I know
that Jesse Belle. I know what that meant for him. He was
such an incredible man. He really lived life fully and
intensely. He appreciated life. Back here on the backside of
Aspen Mountain one year we were doing some back country skiing
and our guide said..."You know, this is a very dangerous
slope. Whatever you do - don't fall." If that isn't the
goofiest thing to say: Don't fall. Well, I got down and
looked up and there was John. He took two turns and he fell
and the whole thing slid and now he's got tons of snow; he's
moving about 30 miles an hour. He's past us but his head is
up. He's swimming. He's there. He's calm. You couldn't
believe this man. He was so committed to life. His eyes were a
lot bigger than normal, but he was there. He was so right
there. Scuba diving - we were out with the hump back whales
in the 70's and his scuba diving equipment failed at about 85
feet down and we were with the hump backs and he was so calm,
so fully committed all the way. That's how he lived. He was
there for me. I mentioned yesterday...I won't mention it other
than to say that he pulled me out of deep snow when we were
helicopter skiing up in British Columbia. Bottom line...he
was there for his friends...absolutely there for his friends
when they needed him. And not just any friend - you all who
lived here in Aspen, I guarantee you that if you were stuck
somewhere, stranded somewhere and I don't care how late at
night if he drove by, he wouldn't drive by. He'd stop. He'd
help you out. There was a fan who inappropriately came up to
John's house and sort of invaded his privacy. John was very
nice about saying "You know, we'd like to have a little
private times" and then he noticed the guy had a flat tire and
he went out and changed the guy's flat tire. This is who we
are dealing with. We all know his major contributions but I
think it is so important to know about him as a human and to
celebrate that incredible generosity and kindness.

Litter - you know how he was about litter. He'd pick up trash
wherever it was. On the golf course, you guys who played golf
with him know that he'd be rushing off into the fairway and
then off into the rough to find trash. He was in the rough a
lot. A lot of you were parents on that Squirt hockey team
that won the state A championships. Zak and my son - Carter,
there were a bunch of people, there are probably a bunch of
parents that are here today. I don't know if you remember
that. Now you've got to understand this was Squirt Hockey - 9
and 10 year olds. It was a big day. We were in Colorado
Springs. It was a huge arena and there was no one in there but
us - 30 odd parents - 50 odd parents - but dog gone it if John
doesn't stand up and sing the National Anthem. He was just
there. He just sang it. And then we won and then we went out
to dinner and John would always buy dinner for his friends but
he bought dinner for the whole team and the parents and
everybody in the darn restaurant.

John was an artist. You know that in his music. I don't know
if you've seen his photographs. They were beautiful -
exquisite. By artist I mean that he appreciated beauty. He
appreciated beauty. And this is to Anna Kate, nothing
inspired him more, nothing made him prouder than when we saw
you dance. He knew beauty. He appreciated art. He appreciated
when he saw flowers - anything - his eyes just got wide with
the beauty. He was an artist. And he was a spirit that will
be sorely missed. John suffered. I think I mentioned that
yesterday. I think we all suffer and have pain. But John had
this struggle between the part of him that was the human
condition and this incredible spirit that sang for people;
that communicated in a way that inspired people; that gave so
much whether it was to the hungry or to the environment. He
had that. In fact he even struggled here in Aspen because
maybe there were some misperceptions from time to time about
it. He loved it here. He used to think about buying a second
home in Carmel. He loved it in Carmel. Actually it was the
third home. I think his second home was the court house.
But I'll tell you what and I think this is the main thing that
I'd like to say that no matter what it was that was going on
with John he really stood up for life and the living. He stood
up for the environment. He stood up for hunger and he stood up
for peace. He did it when people didn't care. It was amazing.
Not only was he just presenting, not only was he singing. You
could be in a place in Washington, D.C. You could be at a
conference or something and he wasn't even presenting and I'd
look over at him and I'd go "Oh, my God, he's going to stand
up." And I'd go "I wonder what he's going to say. I hope it's
appropriate." But you know what - it was always appropriate.
He always made a difference. And I know that that emptiness
inside of us that we feel - that emptiness inside of us gets
filled every time we stand up for what we believe. Every time
we stand up for who we are and for issues like children,
hunger or the environment, or peace then we fill up. And I
know that when that happens then John's spirit really sings
out and it does it again and again.

Yesterday at the service Joe Henry came up here and read
something and I want him to do it again. Joe, where are you?
Joe Henry is a dear friend. Joe Henry - his lyrics - is an
inspiration. He's a story teller. He's a poet. John sings
that music so well.

..... (Joe Henry speaks) ....

For Joe and I - we know that John's presence is here. We feel
that. I know you feel that. In fact it's also in the mountains
and the sky. We know it is in the streams and in the woods.
And we were so blessed by having John Denver in our lives. We
loved John Denver....God bless you.

Joe Henry..."the same for me"

==========
Joe Henry
=========

Speech at "A Celebration: The Life of John Denver"
October 18, 1997
Aspen, Colorado

I'm afraid I'm not a speaker but John was part of my heart and
what I became was kind of in a league with him. I think that
all of us on a physical plane are hearts and then the
non-physical plane are our souls. I think living with the kind
of heart that he lived with is a great example and I think
that everybody has their days to do that and I think that the
soul is endless. And I think the soul is always and everywhere
and what happens is a change of form and I can't imagine that
he goes away. I think he has just changed his form and I
think that's all of us. I've got a lyric that he really liked
that we didn't have time to make a song out of it but its
called ascension.

Ascension

The stars they call. They beckon me to follow
They seem to say there's something more to find
And like a fool I'm driven by a hunger
That leaves me lost with nothing to call mine.
And so my past returns, drifting through the darkness,
the branches tear across my face and hands,
The stars wink down, they say you're bound to find us.
I climb alone - a solitary man,

But I will rise, I'm almost flying,
I come from earth, I love the sea
and I will fly I feel me rising
I'll climb beyond a climbers need to be
and so I watch the eagles soar above me
He dips his wing and bids me to go on
and I follow him, I watch him like a beacon
into the east we face the rising sun
the skies a flame there is blood accross the mountains
the shadows fall and fill the earth below
I take a step and rest and take another
On stronger winds I soar above the cold."

Tom Crum speaks again...

For Joe and I - we know that John's presence is here.
We feel that. I know you feel that. In fact it's also
in the mountains and the sky. We know it is in the
streams and in the woods.
And we were so blessed by having John Denver in our
lives. We loved John Denver....God bless you.

Joe Henry..."the same for me"

=============
Pat O'Donnell
=============

Speech at "A Celebration: The Life of John Denver"
October 18, 1997
Aspen, Colorado

Hello. My name is Pat O'Donnell. I've been in Aspen only for
a few years but during that time it's been long enough to
experience a number of John Denver's goodnesses. Whether it
was a Charity event, an environmental cause, or an opportunity
to share the beauty of Aspen with the rest of the world John
was always willing to help.

We were preparing for a concert on the gondola plaza.
He said "I'm sure it will be more well attended than you
expect" and he said. "I don't think so". He said "Why don't
we get a nice stage." He said: "No, I don't want a stage."
I said: "How about a tent"
"No tents." How about if we put you at least on top of the
gondola stairs and he said "I don't think too many people are
going to be there. Let's put it in the middle of the stairs.
All I want is a great sound system and I want to be close to
the people." Well, we guestimated that between one to two
thousand and for those of you who weren't there they even had
half of Grant street completely blocked. He sang songs that
night about Colorado, about the Christmas holidays and about
the mountains in general. You couldn't fit another person
there not even in the Gondola. It was a very cold night. I
remember that and being close to him and enjoying his music
and he was just starting to pack up his guitar with his
fingers really frozen when the crowd called out "one more",
"one more" and what they wanted to hear was "Rocky Mountain
High."

And just now the Aspen Steam Company are finishing what is
going to be the highest lift in North America which is the one
at Snowmass, we feel that it is only fitting, with his
family's prior approval, to dedicate the highest run in North
America to John and call it "Rocky Mountain High."

A plaque will be placed at the top of the run in his memory
because we feel there isn't a better place to remember John
and the feelings he was trying to express with his songs.
Thank you.

=================
Ron Deutschendorf
=================

Speech at "A Celebration: The Life of John Denver"
October 18, 1997
Aspen, Colorado

My name's Ron and I'm John's brother and I may of course as
Tom said earlier, retell something that I said yesterday. At
this moment in time I can't quite remember what I said
yesterday. I would say that John loved Aspen, Colorado, and
he always felt that this was his home. There were times when
I didn't agree with that. The last couple of years I don't
think everybody treated him that well. But he loved Aspen.
He loved all the people here - friends and family - and I
think he would be very proud. I know he is very proud of
Zachary, Anna Kate and Jesse Belle for organizing this so that
some of his friends and ourselves could acknowledge him today.

He was a typical big brother; pretty much obnoxious most of
the time. He loved to get my goat and those of you who knew
us well knew that we had an incredible sibling rivalry.
Usually it was acted out in the golf course on these days, or
earlier it was go-carts or just anything that there could be
competition at. We would have incredible competition. In
June John had called me to see if I could play golf and
as usual it was the night before, the tee off time was early
and I was at least 2 hours away. I said "Sure, I'll come.
I'll be there." So I got up and I drove and I made it just in
time to lace my shoes up on the first tee and John
said..."Well, did you go by the club house?" I said "No". He
said "Shoot. I left a twenty dollar bill up there with a
note." I said "What did the note say?" ...."It said: "You
should buy some balls. You're probably going to need them."
(laughter) That was my brother.

Well, we played and golfed around and I won the first side and
we had enormous bets (usually a dollar). I was losing on the
backside which was going to make him win on the Eighteenth.
So we got up to the eighteenth tee and I shot my ball straight
down the middle, and then John got up and addressed the ball.
"John, you haven't outdriven me all day, have you?
Well, John addressed the ball and he concentrated and he
concentrated and then he hit it right out of bounds. I said
"Hey, John, let me get you another ball. I think you're going
to NEED it."

I, like everyone else here celebrate John's life. I knew he
was a good father, and he was a very good man. He was a great
brother and a so-so golfer, but a great brother. And because
this is his home and family and friends and though I did it
yesterday I feel as though I have to do it today.

John called my house a couple of weeks back and we had a
little discussion. My oldest son had gotten hurt a couple of
weeks back and I was telling him all about it. Then we
started talking business and he was really happy and he felt
like his life was coming back around and he felt that it was
as good as it had been in some time. About a week later, I was
out of town and he called again and on our answering machine
it says
"Hi, you have reached the Deutschendorf's and our mission
is on earth is over now so we're beaming back to our own
planet. If you'd like to leave a message, please do so."
This was John's response and for me, I'm blessed it will
always be the last way I heard his voice. And I want to
share it with you all:

John's voice on tape: "Goin' back to your own
planet huh?....(John laughs heartily)....This is John
callin', To see how your boy is doing....
(more laughter)"

Tom was correct and all the rest of us I'm sure - friends and
family - feel pretty much the same. John is here with us. I
know he will always be with me. He is with me and he'll be
with my Mom and Zach, and Anna Kate and Jesse Belle. When you
go outside in those hills, he'll be around. I love you John.

============
Annie Denver
============

Speech at "A Celebration: The Life of John Denver"
October 18, 1997
Aspen, Colorado

I'm Annie Denver and as Ron and Tommy said earlier I may
repeat a few things that some of you may have heard me say in
the past few days. Last night Mike Taylor came in who I met
with John in 1968 and Mike was a long time friend of John's
and a guitar player and he shared a story with me that I'd
like to talk about today because I think it is very meaningful
in terms of John's life and in terms of his death.

John described himself as sort of a geeky kid that didn't
always fit in and he moved around a lot and as his song "This
Old Guitar" talks about he used his music and his love of his
guitar that his grandmother gave him to make friends. Mike
and John were on the road one day in Texas and John took Mike
by the house where he threw a party and nobody came. His
mother had gotten potato chips and dip and set up tables and
nobody came. (With tears in her voice)....John, everybody's
here for you today.

As Tommy said, there was a struggle within John,
between the love he felt he could give the world and the love
he gave his friends and family. There was also an incredible
sadness and it was really where the music came from. I think
John would be so, so surprised that so many people came out
and so many people from all over the world. He got it on one
level and on another level I don't think he quite...he never
quite let it all in. The last conversation I had with John
was a week before he died and he called me because he had been
with Zach at the Broncos game and he called to tell me how
proud he was of Zach and how great he felt Zach was doing.
Actually he made this call.... He had just had dinner with
Anna Kate and he called me to tell me how much he loved her.

John and I grew up together. We had gone through a lot of hard
changes...through being very much in love and raising a family
and connecting and the world opened up and we were together
and he became a star. You all know the story. But the truth
is we had been divorced for a long time and one of the gifts
that John gave me was the ability...and I think we gave each
other...was this ability to go through a lot of different
emotions - anger - hang up on each other on the phone - come
back together - but that bottom line is that he was always
there for me and...(emotion in her voice)....he's not 'here'
anymore.

The last thing of every year I always got a bouquet
of flowers from John on my birthday and it always said "I love
you". I hadn't spoken to him since September and we were
having the conversation about the kids and I said..."John, you
know it is so wonderful of you to send me those flowers every
year on my birthday" and he just sort of paused and very
softly said...."Oh, but, Annie...I love you."

And I want you to know that I love you John and you'd be so
happy today . This is all for you and I hope you're really at
peace and in God's grace. Thank you.

===========
Paul Winter
===========

Speech at "A Celebration: The Life of John Denver"
October 18, 1997
Aspen, Colorado

I'm Paul Winter. It's an honor to be here. A couple of nights
ago I was walking in the moonlight in the corn back in
Connecticut thinking a lot about John and reflecting on all of
the times that our paths have crossed over the past 30 years.
I recalled something that he had said to me from those times
that I found very encouraging. He told me that my album from
the late 70's was one of his favorite albums of all times.
Then it struck me: "Icarus". There is a little song from that
album titled "Icarus" after the Greek myth about the first man
who tried to fly. He soared off the cliff on wings made from
wax and feathers and as he flew higher and higher in ecstasy
the sun started to melt the wax on his wings and he fell into
the sea. I stopped in my tracks remembering that and I knew
then that I had to try to find a way then to be here this
afternoon to play "Icarus" for John. May his spirit soar ever
higher and higher for eternity.

The song..........."Icarus"

============
Mike Kobluk
=============

Speech at "A Celebration: The Life of John Denver"
October 18, 1997
Aspen, Colorado

I'm Mike Kobluk and back in the 1960's, almost a lifetime ago,
I traveled the country with a group called the "Chad Mitchell
Trio," later known as the "Mitchell Trio." I'm proud to say
that the last three years of that group John Denver was a
member and we traveled together. As has been mentioned
earlier, John was a very generous person. Generous not only
to those kinds of things that he believed in, but certainly
also generous to a lot of the things that some of his friends
believed in as well. About 10 years after the Chad Mitchell
Trio had sung its last chorus together, Joe Frazier, who was
the third member of the trio besides myself and John, called
to say that the Episcopal Bishops' Relief Fund was going to
have a benefit concert and would we bring the trio back
together again to perform in a reunion concert. John, of
course, said "Yes, Indeed." And we ended up in Denver after a
couple of days of rehearsal, and I would like to say that it
was the reunion of this trio that drew the hordes of people
who came to the concert, I guess I knew that it truly wasn't.
It was John. And as we drew toward the end of the concert, I
can remember the Bishop coming up on the stage to thank the
Mitchell Trio, and thank John, thank Joe and thank Mike, and
then he paused and then he said "Who the hell is Mitchell?"
Well he embarrassed himself just slightly but he got himself
out of it real nicely when he said "It doesn't matter because
you did one heaven of a concert." And I suspect today John is
doing one heaven of a concert someplace else.
In 1966, about a year after he joined the Trio, John went off
on kind of a secret little mission into a recording studio
along with Bob Heprin and Paul Prestipino to record his first
solo album. The solo album that reached a hundred in sales. In
fact John bought all hundred and then gave the copies. of
course, to his friends. But the final tune on the album was
written by Bob Gibson. It was called "Farewell Party" and I
want to read the lyrics to you:
"Don't want no tears shed for me when I'm gone.
"Don't want nobody to sing no melancholy song.
"Don't want your parting words to become my eulogy.
"Just have a ragtime band to play when you say 'Goodbye' to
me.
"Keep that whiskey flowing boys and raise your glasses high.
"I pleased to see you're here to say farewell and not goodbye.
"Keep that whiskey flowing boys and raise your glasses high.
"And damn the man that dares to let my farewell party die.
"Don't want no organ music bringing people down.
"Don't want no long-faced mourners always hanging around.
"Don't want no candles - ah - but let the flowers stay.
"Girls can wear them in their hair when they see me on my way.
"Roll the carpet back, my boys, and let the dancing start.
"Sing all the good old songs and don't forget my part.
"Invite all the girls I've known and make sure they have fun.
"Hug and kiss them all for me as you know I would have done."

==========
Paul Lerch
==========

Speech at "A Celebration: The Life of John Denver"
October 18, 1997
Aspen, Colorado

My name is Paul Lerch and John Denver - JD - has been one
of my best friends for about thirty years. By best friend I
don't mean somebody I see every day or every week or every
month, for that matter, but I shared the very best of times.
For he was there for me whenever I needed help and he was
always good for his word. He was one of those few friends you
could really count on and I have to tell you that there was
never a doubt in my mind that whether we would be throwing
horse shoes or barbecuing chicken or telling lies when we both
had canes and hearing aids.

I met John in Aspen in the summer of 1968. I was working in a
Steak house with my buddies. John began skiing with us and
he played a highly respectable game of darts.
He soon took a job at the Leather Jug which unfortunately for
John was crawling distance from the steak house. We - mainly
Crow and I - were an entertainer's nightmare. In spite of
this Crow, Michael and I became some of John and Annie's
closest friends. We would go backpacking together, out to
dinner and when John's career was taking off we would always
get a preview of each new album with John and Annie at their
home before it was released. When you hear the line from
"Poems, Prayers and Promises" about "when my friends and my
old lady sit and pass the pipe around that pretty well
describes one of those album auditions. So that's how far
back we go and if I were ever to start down the list of
wonderful and generous things that John has done through the
years....such as showing up at the hospital just after my son,
Michael, was born with a gift of a Polaroid camera or taking
my father, a WWII B-17 Pilot, for a ride on his bike one
evening. If I started down that list then there would be no
time left for anyone else to speak. I do think I should
mention the fact that John once took a large group of friends
to an exclusive fat farm in the area of San Diego for a week.
We had a great time at the Golden Door but what was he
saying. (laughter).

I had planned to or attempted to put together some funny
stories about John's misadventures but after a great deal of
frustration I realized that we, his friends, were the ones who
did and said stupid things. We were the clowns who would do
anything to make John laugh because he laughed so hard he
would nearly collapse. And the only person I know who laughed
harder than John was Annie. I think Annie summed it up
perfectly when she told Bryant Gumbel that John was really a
good guy. He really was a good guy and to me a great friend.
I love him and miss him, but those memories are mine forever
and I feel blessed. Now, before I step aside, just before I
walked up here Dale, who has been John's pilot and is seated
right there...pilot and friend for as long as John has flown
asked me to say that as much time as he spent with John he
never had enough. He always wished he could spend another 5
minutes or five days with him and so this tribute is from him.

Thank you.

===========
John Higgin
===========

Speech at "A Celebration: The Life of John Denver"
October 18, 1997
Aspen, Colorado

I'm Lyle Lovett. This is my friend, John Higgin....

John Higgin:
John Denver was a hero to me, a teacher. I feel so lucky to
have gotten to know him over the last few years. When I was 15
years old and first heard his songs on the radio listening to
his songs helped teach me what a song was and what a song
should be about. Seeing him perform on television - seeing a
person performing - not just a performer - taught me that it
was possible to talk to your audience, to include your
audience and to make your audience a part of your show. He
was a real teacher and to get to know him was such a thrill
for me. I met him when he showed up at one of my shows.
Steve Voodoris who walked my guitar out was a friend of John's
and had worked with John for years told me a couple of years
ago at Red Rocks...he said "It's ok if you borrow him, just
don't take him." Steve told me that John was in the audience
and I became very nervous and I wish he had told me after the
show. (laughter) But just knowing John was there...his
presence was supportive. It was encouraging, and getting to
meet him after the show felt the same way. I enjoyed joking
with John, teasing him about being a Texan and I asked him one
night here at the Aspen Music Tent if he would mind singing a
Texas Folk Song with me. I just feel so honored that he
walked out on stage with me and sang that night and the next
year at Red Rocks...a song called the Texas River song.

"Texas River Song"....

============
Art Pfister
===========

Speech at "A Celebration: The Life of John Denver"
October 18, 1997
Aspen, Colorado

I'm Art Pfister. I'm a friend of John's. He was a great friend
and we all loved him. He was a great friend of all of us and
Aspen and Colorado, too. I miss him. He was a partner of mine
at Woods Resort that was a resort above the frying pan. I
invited him up there to fish and hike one day in the late
'70s. And it's at 9400 feet - he just loved it. Two big lakes
and catching fish. And shortly after that one of our partners
- there were four of us that owned this lake - was moving out
of town and he was going to sell his interest. And I called
John and told him about it and he bought it - just right now.
He said to me later that he had never made a major purchase
before without calling his business manager. He felt like ..
missing it looks like. His dad, Dutch, was a good friend of
mine and he came to Aspen. He would hunt - he would come to a
hunting camp with me. The hunting camp is on the east side of
a Mountain. And he would never shoot anything but he would
stay up there at the camp through all three seasons, most of
the time alone. Not really alone, though, because I had a
buckskin horse named "Buck" that I could never catch. But
Dutch would just whistle at that horse and he would come up.
So Dutch and the horse stayed at the hunting camp the whole
season. Despite the fact that he took two shots at a duck, he
didn't like or do any hunting. He was a very good golfer.
Dutch had taught John to fly and play golf and Dutch was a 2
or 3 handicapper - a very good golfer - and John was a pretty
good golfer. I think he was a lot better than his younger
brother. (laughter) John was really very competitive on the
golf course and he still had some of my money so I really miss
him. I'd like to get it back. (applause)

=========
Red Dodge
=========

Speech at "A Celebration: The Life of John Denver"
October 18, 1997
Aspen, Colorado

Well, I'm not a public speaker, but I'm a friend of John's,
and my name is Red Dodge from Anchorage, Alaska. And if I
started telling stories on him, he would tickle. The other
pilots wouldn't come, so I'm the one who has to do all the
talking so I don't know what to tell you. We fished with him
for years and listened to his lies. (laughter) I have never
seen an honest fisherman in my life, with the possible
exception of myself. He came up a few years ago and he had a
helicopter. And we're going helicopter fishing. I had a
school teacher friend named Cindy Cox and she was going to be
the fish guide on this helicopter trip. It was all going good.
We got everything ready the night before. Cindy went home, she
came over in the morning and we're going to go out early and
go fishing. John shows up out in the yard dressed in a green
chestweeder outfit - it was flourscent green. (laughter) She
immediately renamed him "Kermit the frog." (laughter) Well,
Kermit, Cindy and I go over to go fishing. He's got a very
expensive fly rod and designed his own flies. He didn't
catch a thing. Cindy and I got our Alaskan fishing gear. We
were using fish eggs. We got about nine pink salmon out of the
lake, about 20 pounders, and we were picking on Kermit all the
time. We told Kermit to get out of the way - we got another
fish on and he was in our way. He was getting a little
cranky. (laughter) Downright tightlipped there at the end.
(laughter) About time to go home and he hadn't had a bite. So
we walks up to me and asks "Would you put some of those eggs
on this last fly I've got?" He sails it out there and
naturally a king salmon gets it. He was so happy he had it on
for all of three seconds. It broke his pole. It broke his
line. (laughter) He was standing there with the handle in his
hands you know. Cindy says "Maybe we'd better get Kermit the
frog out of the water. (laughter) So he turned around and he
was not a happy camper. And he fell down. So not only he has
lost his fish, he is all wet, he's in this green outfit - we
took pictures of him - you can see he is all wet. Now he came
over to me and said "Can I borrow your pole?" I gave him my
old reel and bait and stepped out there on the creek, didn't
even go in the water. He went out to fish right off. We waited
for him to play around and pretty soon he came up on shore, he
had a 51 pounder. Now that was lying stock right there. We got
our fish all loaded in the helicopter and come back to town.
And he never mentioned not catching any fish on his fly rod,
anything, because he was so proud he caught the big one.
(applause)

============
Bruce Gordon
============

Speech at "A Celebration: The Life of John Denver"
October 18, 1997
Aspen, Colorado

Hi, everybody, I'm Bruce Gordon, a long-time friend of John's.
What a glorious day it is here. It is such a blessing to be
here
today thinking of John as we all do. It is one of these kinds
of days that we all yearn for. He would be out there doing
whatever he could, whenever he could, and as much as he could.
Even when we would start to see a cloud build up above Sopras
that would look like a thunderstorm was heading our way, he'd
get very excited and rush home as fast as he could and watch
that storm start building up over

and start sparking and rumbling. He would just love to sit
there and
watch those storms come across and he just really, really
liked it when it finally hit and was just raining and he could
take a nap. He just loved to sit down and listen to the rain
storms and take those kinds of naps. Yesterday, of
course, it was quite a day for everybody.
It was another of such a long list of memories for myself. I
got to fly to Denver in the morning to see John and pay
tribute to all the family. And sure enough taking off at seven
in the morning as John and I used to do so often, the sun
coming up and the mountains just shining in the most glorious
morning you could ever imagine. And days like this are
something that we always just got so excited about. On the way
home I was with the McDonald family and some friends and I was
just about to call Approach to say we were about to come in.
And I said "Let's do one for John" so we did a couple of left
turns, a couple of right turns
and did a couple of scenics that John and I did so often and
just feel so blessed to be up there soaring among the peaks.

Just a funny thing also happened yesterday, funny if you will,
but Tommy called Joe Henry up on the stage, which is always a
hard thing to do. He said he didn't have his glasses to read
the poem that Joe wanted him to read. So Joe came reluctantly
up to the stage and said "I don't have my glasses." Of course
Tommy pulls out his glasses and Joe gives him his glasses so
they both have their glasses ready to read.
So the other night we had that candlelight vigil which again
was such a wonderful thing to do and such a blessing to see
everybody. They sang "Rocky Mountain High" and I got so moved.
The moon came up and we just looked over the mountains and
seeing this beautiful moon I had looked at so many times with
binoculars and telescopes up at John's house. He had this
incredible contraption of a telescope that nobody could figure
out how to work it. We would sit there for hours trying to get
the computer to work and meanwhile the moon would go up and
down and we would miss the whole darn thing. (laughter) But I
saw the moon coming up the other night and so I went to say
something that I was really very moved by the beauty of it and
John would always be so very, very happy. I had spoken to him
the last time he was home and he was so happy to be home. He
loved this place. He would exclaim all the time "What a
blessing. What a life. I'm so happy to be home." Of course I
wanted to get up and share that with everybody that evening
and get everybody to start thinking positively and how lucky
we all are and how priviledged we all are. I don't know what
came out but it sure sounded like I was howling at the moon. I
think that is what I've been doing the last week or so. Just
everything seems to come up a big howl so I'm trying to read
some of these thoughts and I probably need Tommy's glasses.
But the thing that I really wanted to say is that evening
reminded me of almost every time and every place I've been
with John and I've been so lucky to be in so many wild and
incredible places with him. He would always take a moment and
exclaim on the beauty of the moment and go "What a life, what
a couple of lucky guys, what a couple of lucky coconuts and
we'd be all over the place. There were talks about his diving.
Well I never knew he could dive before. We were in Porta
Vallarta. He had just done some concerts as was his style, if
you will, he took everybody out fishing and we were out on the
boat fishing and we went to this lovely, lovely place was up
on the cliffs for lunch and for dinner and we were sitting
there with the crew and with myself as a guest as always he
treated you like a king whenever you were with him. I was
just watching him and we were there and he sort of walked off
by himself. I'd keep an eye on him once in awhile and what
was going on and he reappeared with his little bathing suit on
and he walked to the edge of this cliff and you should have
seen the table...the whole table was saying..."My God, What is
he doing? There goes our next gig"... and he stands on the top
of this cliff and it might have been 50 feet but in my mind it
was 250 feet. He did this most beautiful, perfect swan dive
I've ever seen. I had no idea he could dive like that. You
hardly even saw a ripple and he swam the remaining 50 yards to
the boat. Everybody was freaking and talking about being
me.."Well, I could do that." So I took a running jump and
jumped out as far as I could. I almost hit this little rock. I
belly flopped and almost knocked myself out. The next thing I
knew everyone was jumping off and we all needed to be rescured
by him. He said "What a life. What a great thing." That was
great.

There was also a time when I was with him in Japan and we were
playing golf. There are so many golf stories. One of them was
we were playing out there and as Ron said he was the most
competitive guy you ever saw and even more competitive with
himself.
He was out there and for some unknown reason he was really
shooting golf. Then we sort of knew this was coming but a big
monsoon was on its way. It started to hit and it started to
rain. Of course, all the Japanese they left immediately and a
few people were left on the course and we'd sort of look
around and it was John and I and it was 50 or 60 mile an hour
winds and I kept saying..."Geez, John, don't you think we
should get out of here?" He said "Well, I've got 5 holes left
I need a par and a birdie and I'll break 80. We're not going
anywhere. Ordinarily I might have tried to persuade him but
with all that wind I was hitting the ball more than 200 yards
myself. I was pretty happy about that.

Another time we were in Australia and we were playing golf.
For a change I was beating him and I hit the ball in the rough
and there was this big hole in the rough there and I said
"Geez, what's this thing?" and John knew all the answers to
all of these things. He said "That's the home of a wombat."
I said, "Oh, ok...what's a wombat." And he said..."Oh, man,
don't get close to that hole because it's a thing that's got
sharp teeth and they're serrated and they're not that big but
what they do is they reach out and they grab you and then they
pull your leg close to the hole and they break your ankle."
In order to keep my sanity I had to run the rest of the day.
Needless to say I totally fell apart and he won the $2.00.

But each one of those moments whether it was being lost in the
mountains taking a walk trying to decide what trail to take he
was say "Guy, what a day! What a funny couple of guys!" Here
we are lost again. We're lost in the jungle, in the mountains
- "What a couple of funny guys! What a life!" he would always
exclaim and appreciate...SO appreciate whatever it was. He
would even say "Far Out" once in awhile and as Sandy said this
morning he would sort of look sheepishly and say..."Well, I
try not to say that anymore, but Far Out."

The beauty of our world and the wonderment never escaped him.
John and I have been friends for over 25 years. It is so nice
to see so many people from this time in our lives. I guess it
all started because of our mutual love and respect for nature
and the environment. But it quickly grew to the realization
that we shared so many feelings together. We had a lot of down
time when we would get ourselves away from our busy schedule
and just sit and talk and try to understand it all. We
recognized in ourselves certain qualities and traits and
patterns - that sometimes they weren't always so pretty. But
through our growing friendship we learned to understand and
accept our frailties and our strengths. We learned about our
inadequacies and we learned about and from each other. Boy, we
got some good lessons along the way. But we also learned most
of all that we were really committed to growing from our
mistakes.

Someone said yesterday that when you were with John he always
made you feel a little bit stronger. He'd really stand by you
and he'd really, really encourage you. He's encourage you to
take a stand. Stand up and be counted. And these were hard
issues when we would talk about them. How difficult it might
be, he would be with you. He always held you in those stands.
He always held you to that higher ground. And because of that
you were a better man because of it. You know it was really
O.K. to be alone in life when you were with John. And John
always wanted to do better. He wanted to do more.
He was, of course, his strongest critic. He was the most
generous man I ever knew. He was the most generous man I could
ever imagine. He touched the deepest part of me. And he knew
it. He knew that deepest part of me and he accepted it. He
always accepted it. He could act like a father sometimes and
lots of times would be like an older brother. He was the great
teacher. And even sometimes like a younger brother. But he was
always, always, a dearest friend. The world is a smaller place
as my dear friend has passed on. We as pilots struggle to
understand the nature of aircraft incidents but we as human
beings can only shake our heads and mourn the death of a great
man whose presence enlivened our spirit and sung a song that
so many of us could hear. His voice will live on just as
his voice will bring attention to so many of the planet's
needs. Words cannot express the lost I personally feel, as
well as the losses we feel as a global family. The death of
John Denver has changed the landscape of music in our lives.
John's plane crashing into the waters of Monterey Bay sent a
tidal wave of sadness around the world and nowhere, nowhere,
does it hurt more than in Aspen with John's family - with Zak
and Anna Kate and Jesse. He personified for many of us the
essence of the best that humanity has to offer...music, peace,
love and - most of all - friendship. I'm eternally grateful
to have had the pleasure of his company while, as he said.."He
had the time to hang around." I will continue to think of him
and to explain each and every day: "What a life! What a
life!"

================
Michael B. Shore
================

Speech at "A Celebration: The Life of John Denver"
October 18, 1997
Aspen, Colorado

We have an unannounced guest here. He was left off the list of
speakers.

Michael Shore:
My name is Michael B. Shore and I've been associated with John
for almost 30 years. Back in 1975 John purchased the Tower
Restaurant in Snowmass, CO and I've been the managing partner
since that time. One of John's favorite meals - not a
restaurant meal, but a home-cooked meal, was roast wild duck.
We had many enjoyable evenings when after a roast duck dinner
he would pull out his guitar, play a few new tunes that he had
been working on and then we'd sing with him while he played
some of his old favorites.

At one point in about 1974 John decided that since he enjoyed
duck so much he might enjoy hunting for them. So I happily
agreed to take him. John borrowed a shotgun from his father,
and we set out on a duck hunting adventure. I suppose all you
duck hunters know that you have to get up really early to beat
all the ducks, and that means long before sunrise. The
morning we went it was bitter cold. The temperature was about
twenty below down by the Colorado River by Silt. When the
temperature is that cold a thick fog forms over the river.
Visibility is very limited. We sat there in the duck blind
freezing waiting for the ducks to fly when after about an hour
or two, two ducks appeared out of the mist. I said..."Take
'em, John". He stood up and fired both barrels at the
startled ducks. It didn't ruffle a feather.
My old Lab, Chester, just stared at him in disgust. After
standing in the freezing cold for almost another hour and not
seeing another duck we decided to call it quits. We drove to
the M&M Cafe an old truck-stop cafe in West Glenwood where
John wrote the now classic tune "Two Shots", (No Ducks) and
cold, cold hands. The song was recorded and appeared on the
Windsong album which was released in 1975. I don't know if he
ever performed "Two Shots" in concert but on a trip we took to
Alaska in 1976 he sang it several times to assembled bush
pilots and other fishermen. It's a real honor for me that he
dedicated that song to me on the Windsong album.

THe last time I saw John in a live performance was at the Deaf
Camp in Snowmass in July. After the concert I called him at
home to tell him how much we had enjoyed the concert. He
asked.."Was Lucy there?". (Lucy is my 5-year old daughter). I
told him "Yes, she was." He said.."You tell Lucy, I 'love' to
sing to her." John, we're going to miss you. We love you very
much. God bless you.


========================
Cassandra Denver Delaney
========================

Speech at "A Celebration: The Life of John Denver"
October 18, 1997
Aspen, Colorado

Thank you for allowing me to share these thoughts I really
need to say. I cannot begin to tell you how grateful I am
that most recently John and I were learning about forgiveness;
the joy in forgiving and the joy in being forgiven. John and
I came together spiritually in our vow of marriage.

We vowed to each other to always believe in the ideal and
always to be confident, unhurtful and unmoved in our devotion
to each other. In our wedding vows we borrowed these words:
"You were born together and together you shall be forevermore.

You shall be together when the white wings of death, spanning
your days and you shall be together in the memory of God. But
there be spaces in your togetherness and let the winds of
heaven dance between you."

Neither John nor I could easily enjoy the affections and the
commonplace experiences in our life without complaint. But
both of us were committed to our belief that our spirits would
find each other in our undying love for each other and Jesse.
John was capable of immortalizing his love and sustaining very
strong his special reverence for all his loved ones -
especially his family - in a circle.

All by itself there is merely pain, but the experience of pain
comes with the understanding that pain serves a worthy
purpose. It's suffering and suffering is meaningful.
Suffering can endure because there is a reason. John would
say what is more worthy than pain in the evolution of your
soul. John is now in a place of serenity and acceptance and
he would now ask you to look upon the world as a place that no
longer withholds from you the love that you were born to
receive. He is now an angel with wings to watch over us all.

John was a miracle in my life, but the biggest miracle he gave
us was Jesse Belle and a new American family - a brother and
sister, Annie, a grandmother, Erma, dozens of uncles and aunts
and lots of new wonderful friends. He was my husband, my
friend and my teacher. May his spirit soar and finally be
free. We will miss you. I love you John.


==========
Bill Twist
==========

Speech at "A Celebration: The Life of John Denver"
October 18, 1997
Aspen, Colorado

Good afternoon. My name is Bill Twist and my wife, Lynn, and I
live in San Francisco. We first met John 20 years ago and then
got to know him well through the formation of The Hunger
Project. John was a co-founder of the Hunger Project, and
Lynn and I - especially Lynn, were involved in creation of
the project from its beginning. Lynn was here yesterday and
spoke at the ceremony in Denver and she is not able to be here
today. I am going to be the sender of her regards and her
love. There is a celebration of the 20th anniversary of The
Hunger Project going on in New York today and there are
thousands of people there who John touched and inspired that
are going to be holding a celebration in his honor starting in
another hour. John Holmes, who is executive director of The
Hunger Project wanted me to be sure to pass on to all people
here - he is a close, close friend of John's - that John was
loved and respected in The Hunger Project - that he was a
great inspiration to the thousands of thousands of
participants around the world who supported The Hunger Project
and he will continue to live through the Hunger Project's
work.

I worked with John on a number of projects and like many of
the people here, over the years have grown to know him as a
friend and have had opportunities to play with him as well as
work with him. And through whatever combination of
circumstances I was playing with John last Sunday at Monterey.
We were playing golf and I was with him from early in the
morning on Sunday until the end of the day when we left to go
to the airport to go flying. And I wanted to share with people
what that day was like and what that day was about - assuming
I can get through all this - because it was a phenomenal day.
The weather was like this. John was in phenomenal spirits. He
beat me in golf, and he was his ever-present, ebullient,
giving, generous self. I had called John about a month ago,
told him I was going to be down there, invited him to play and
John gave me his typical reaction whenever I talked about
playing golf. "Bill, I would love the opportunity to take
your money. I will be there for sure." And we played at
Spyglass Hill which was one of John's favorite courses in
Monterey. It was the course he had played on the AT&T -
probably the toughest course down in Monterey. We played as a
five-some. The three other guys that were there were people
who had met John before but John didn't really know well.
But they were all people with tremendous humor and
sensitivity and heart. So it was really fitting that they were
there. The course was in, I think John described it, as
monstrously difficult shape. It was set up like they would
have it set up for the AT&T - really high rough and fast
green. And it was good, now that I think back on it, that it
was that way because all of us played horribly and we sort of
bonded together as these warriors putting up with the travails
of trying to survive the day.

So there was a great humor in the day - none of us knew we
were going to shoot our career rounds and we were in this sort
of text together. John started out the day, walked up to the
first tee and said "You know when I play the AT&T and I play
with these pros, they are always so generous with me. They
hit it right down the middle and I hit it out there and I
never hit it down the middle. And they always say something
like 'That won't hurt you too much.' Or they will say 'You
can probably come in from there.' And John said "today I'm
going to put it right down the middle. This is such a great
day and I'm going to fire it right down the middle and you
guys are going to be saying "God, what a great shot." So John
steps up to the Tee and sends a big hook out there into the
rough and all four of us spontaneously said "Well, that won't
hurt you much." (laughter).

John just absolutely cracked up. And kind of the rest of the
day went like that because we spent a lot of time looking for
balls. We were all over the course. There were many times when
I would end up hitting a ball that would careen off a tree and
then shoot across the fairway into a sand trap and John would
say "You can come in from there." So there was a tremendous
amount of camaraderie. One of the guys named Michael Flynn
was an Irishman and knows every joke that has ever been told
and John had a huge repertoire of jokes that day too. So there
was this constant banter back and forth between the two to
come up with the best joke. I can't remember a joke 10 seconds
after it's been told so none of it would probably be
appropriate to tell you, but I can't remember it anyway.
There was this great sense of competition and humor. As other
people have said, John was a fierce competitor. Because he is
a vocalist anyway he competes with his mouth out on the golf
course. He uses speaking to get you. There are always jabs and
always something to throw you off. But one thing I noticed as
the day went on - it was completely interwoven in this day of
camaraderie and good cheer and fun - was John's phenomenal
generous spirit. He spent more time looking for golf balls for
people than anyone out there. He would never call off the
search before the guy who was looking for the ball said "This
is hopeless." John was all over the course hunting for golf
balls for us - me a lot. There were a couple of course
superintendents from SpyGlass who drove by and saw John and
John saw them. And he stopped everything, went over to them,
talked with them. They laughed. They shared things. These
were people who I think John knew from the AT&T or whatever.
But John took every opportunity to reach out and touch them
while he was there that day. The people that he was playing
with, John was interested in them, drew them out, learned
their stories, learned about what they were doing. One of the
guys was a writer and he and John ended up writing gold songs
as we were going around the rest of the day. John's touching
generosity was completely present the whole time in the midst
of this fierce competition. in the beginning when we went out
and we were playing I'd miss a putt by a couple of feet and
John would say "That's good, leave it to me." And there were
a lot of these "That's good"s and by the 11th hole John was
ahead of me but closing and I missed this putt by about 2 feet
and suddenly John said "That's not bad, but it's not good" and
I had to putt it out. And I remember on the 17th hole I got
another 2 foot putt that was another "That's not bad but it
wasn't good" and that time lining up to putt the thing John
with great encouragement says "Get it close, Bill" which is
all I did. I got it close. There were many times - as I said
it was calm, just a perfect day - there were several "Far
Outs" and there were several "This is fantastic" and several
of them came just as I was lining up putts, too. (laughter)

John did win. He did beat me and it was about 2 dollars I
think was all and he was very happy with it. At the end of the
day we went in to the clubhouse. We got in maybe 3:30 or so
and we sat and put the football game on and John spent some
time talking about some of the things he was doing. There was
a PBS special he was working on that he was really excited
about becoming a voice for the environment. And he was really
excited about this new plane he had just gotten and how it was
going to allow him to get down to southern California to see
Jesse - how fast it went and how far it went. He was just on
the top of his game on everything. And we sat in there and he
was having lemonade and we were having beer watching a
football game and he was saying he wanted to go fly in this
plane of his.

It was such a great day and he wanted to go practice. He
wanted to practice landing. He had only had one day in it so
he wanted to practice take-offs and landings. The rest of us,
we were going to hit more golf balls. We were so demolished
by the day that we figured we needed to do something. So we
said "John, you should go with us and hit golf balls. We're
going to take your money for sure." He said we needed the
practice. He did not. He wanted to fly in his plane. So as
he was leaving the Maitre D or head guy came over to John and
asked for an autograph and John said "absolutely". The guy
said it was for his nephew who had always been an admirer and
John said "What's his name and how old is he and what's he
like and what does he do." John wrote a fairly long autograph
to him and he left just beaming. And one of the guys I was
with said "John, doesn't that ever bother you...people coming
up and asking for your autograph?" John said "You know this
is such a great day. It is a privilege to give an autograph.
And he got up and he walked out. And I watched him walk out
and there was another group of men sitting towards the door.
And John had to walk by. There were 6 to 8 guys and they were
eating or watching football or something. And I watched John
walk to the door and I noticed as he walked by he watched
them. And they hadn't seem him get up and walk out. I don't
even know if they knew he was there. But as he walked to the
door I watched him and he watched them and I knew what he
wanted to do. He did not want to leave an opportunity to
touch somebody and as he walked out one or two of the men did
look up. John looked over and smiled at them and said "Good
afternoon, gentlemen." and he walked out to get on a plane and
go flying.

People ask me if there was anything unusual that happened that
day and I think to myself that other than being in the
presence of a guy who is so aware and conscious that every
action he has with another human being is an opportunity to
make a difference for them - that was unusual. And there was
only one thing that was unusual I can think of. When John left
we were going to go out to dinner. And I had said we would
figure out where we were going to go and I'd leave word and he
would come meet us. I called over to his house around 7:00. It
was an answering machine and I just left word that we were
going to Monterey and we would be eating at this restaurant
that was on a certain street near the Marriot Hotel and there
was a jazz club nearby and we were going there afterwards. And
he should join us and obviously he didn't join us for dinner.
And I knew he had a lot of work to do. We were planning to get
to the golf real early on Monday and play it. So id didn't
seem like it was odd at all that he didn't come. After dinner
we walked over to this jazz club. It was Sunday night and
there was nobody there and really nothing going on so we
turned around to go back to the car. And as we walked along -
the four of us were all still together - and one of the guys
looked up and said "Twist, look". We looked down the street
and there was a - it was a golf ball. A bright, white golf
ball in the street in downtown Monterey. It seemed really
strange that the ball was sitting there. The guy reaches over
and picks it up and makes some comment like "This is one of
your wild shots today that you're not going to get in from
here" and threw me the ball. And that day when we had been
playing John was out looking, helping to find golf balls. You
kind of get to know what type golf balls people are playing
and John knew that I was playing a Titalist Professional 100
and there were many times when you go out looking for a ball,
and look in the trees and call out "Titalist Professional 100"
so there were a number of times that happened. That someone
found my ball. So the guy picks the ball up and flips it over
to me. I catch it and I look at it and it is a Titalist
Professional 100. I said "That's strange, this ball sitting in
the street. How did it get here? It's 5 miles from the golf
course where there's no golf shops. It was like a bright egg
sitting there. Somebody would have picked it up. It was a
brand new, unscathed ball. It just seemed strange. I put it
into my pocket and at home later that night one of the guys
was watching television and he heard the news and woke me up.
I came down and there was a lot of confusion as to whether
John was in Monterey or not. Obviously we knew he was and I
knew immediately it was John in the plane. And the thought of
the golf ball occurred to me. to me I don't know how it
worked but I saw the movie "Oh, God" and I know this golf ball
was a gift and it is one I'll never lose. Thank you, all.
Thank you, John.


=================
Malcolm MacDonald
=================

Speech at "A Celebration: The Life of John Denver"
October 18, 1997
Aspen, Colorado

Hello everyone. My name is Malcolm McDonald. It's a pleasure
to see all your faces out here. If my voice sounds like the
Godfather, forgive me. It's partly this collar and partly all
the trouble going on my deep remorse for John's passing. I
wanted to share a couple of stories about John that are
perhaps our moments in life, that I thought you might enjoy;
that you might not get from books and magazines. They are
kind of short and sweet but I thought you might all enjoy
them. I wanted to share those with you and I wanted to share
these stories to express some of the fineness of John's
character and the man that he was and some of his humor
because I think that's all pretty special.

The first story is we loved Scotland. We used to go there
quite often and the last time we went was last March and we
just loved going there. The Scottish people and their brogue
and John especially liked people coming up to him and go "Ah,
Johnny, is that you?" He just loved it. He blushed and
say..."Oh, yes. It's so good to see you." They would talk
about the music and the music seeps up from the ground in
Scotland. It was always very special for us with the mists
and some of the origins of music. So this story is part a
reverie about how John and I used to joke about some of our
times in Scotland. This took place in Edinburgh, Scotland.
We were out one afternoon before a concert and it was a
beautiful, misty day. John loved the rain and the mist. The
mist was cloaking the castle and it was one of the most
beautiful castles in all the world. It was very powerful. So
we were standing underneath the awesomeness of this castle and
we had created this little vignette - this little story -
about Vassal John. You can imagine John with a little tunic
on and this is long ago and far away but nonetheless in
Scotland. John laughed about this an awful lot since then.
And so here is Vassal John. He had just come 300 miles from
Glasgow, Scotland and there were horses and dust everywhere.
He got off his horse and went "Whew...what a trip. It has
taken us 8 weeks." And he was talking to some of the princes
and the Kings who were underneath the castle and this castle
wall goes up. It is sheer rock and more stone from the castle
wall that is formidable. And so John is underneath there
talking to the Princes and the Kings. He was saying..."That
was quite a trip. I can't wait to go over and get something
to eat, a little bit to drink and refresh myself. I'm glad
we're here." The King put his hand on his shoulder and said
"That's a nice idea, John...but first you have to climb up
that castle wall and go get a few people and do whatever you
have to do up there. We'll be in this little tent over here
while you're doing that. They'll throw oil at you and stones,
but first John, you have to go up there and do that."
John thought that was the funniest thing. I think it related
to "that's a nice idea, John, but first....magoomba".
So he had a lot of laughs about that.

I want to share another story. John often talked about his
family and especially his father. I think it is appropriate
to share this story with you. I did not have the privilege
of knowing Dutch and I wish I had. John told me this story a
number of times, and I might not have it accurate, Ron, but
John said that Dutch used to take you guys up hunting and that
you would scurry up the hill chasing whatever it was that was
up there with your guns. And one day John came back and came
down the hill maybe a little bit before Ron. And Dutch was
just sitting quietly on a tree stump. He hadn't shot a gun at
all and wasn't interested in shooting his gun and John said
that he was sitting there quietly watching nature and
absorbing nature. And John told me that that was one of the
gifts that he got from his father, Dutch - the gift of
communion with nature and a kind of appreciation. So I just
wanted to share that with you. John said it was a big impetus
in his feelings for conservation and all the work he has done
around with the environment - a gift from Dutch.

I want to share one more little piece that my brother, Marc,
found on the airplane when he came out here to see me and to
support me. It seemed to come through the ceiling of the
airplane - of the jet - and it seemed clear to me that it was
a message from John, through Marc, through me to all of us.
And I'll read it:

"I want to appreciate the times when moments are made
into memories. I want to embrace them, cherish them
and never forget they come so few and so far between.
I know that wherever life takes me, these moments will
follow. They remind me of what is truly important.
It's not just life - but living. It's the journey -
the destination, and all points in between.
I must admit, it's been a good life after all."

In closing, I want to say that John and I were the very
closest of friends and I want to say that it has been a joy to
have been in service with John for the last decade. He will
be in my heart, and most important of all...peace. Thank you.


==============
Stephanie Ryan
==============

Speech at "A Celebration: The Life of John Denver"
October 18, 1997
Aspen, Colorado

My name is Stephanie Ryan and I've been working with John
Denver for the past four years. I think more accurately it
would be seven - I've been running around for the past four
years. We all have - Joan, and Hal and Chris and Dave and
Malcolm and Steve and everybody. John used to say to me...I'd
call him up in the morning and he'd go..."Stephanie, are you
looking out at the day?" and I'd say "Yup" and he'd
say.."Stephanie, it's a hard damn life up here in the Rocky
Mountains" and then he'd run off to the golf course and I
would try to find him later.

I had a speech, but I'm going to shorten it down. Last week
John was up here and Mike and everybody had heard he was so
happy about his life and he was in such a wonderful place, and
he was just glowing with enthusiasm for his life and his new
songs that he wrote. He was playing for Marianna and Myself
and Jane. He was walking around the house with his guitar
playing this great new song. We were talking outside and he
said..."Do you know, Stephanie? Do you believe in astrology?"
Mostly I believe in everything. He said "My astrologer told
me that this year and this time in my life is so important and
I have a chance to be out in the world like never before." And
I said..."Oh, that's great. I'm so happy for you." And he
said "This chance only comes about once in a lifetime." I
said to him..."More than in the 70's?" And he said "Yup -
once in a lifetime and it's pretty exciting." I said "Yeah, I
think it's great and I think that you are so deserving of it."

As I reflect back on this I can't help but think that although
that's not what I took it for at the time, that his spirit
just exploded into the universe and he is here with us more
than ever before. I think all you have to do to reconnect
with John is get quiet and feel the warm press of the wind,
and see the majesty of the mountains, and hear the warm
embrace of his music, and always remember that John really
showed up for life and to be a participant and not an
observer. Like my favorite cowboy said..."Reach for the
future and hope for tomorrow and all that you can be."
Thank you.


========
Hal Thau
========

Speech at "A Celebration: The Life of John Denver"
October 18, 1997
Aspen, Colorado

For those of you who don't know me, I'm Hal Thau. In an
interview on television a few days ago I was asked "What am I
going to miss most about John Denver?" How could I really
answer that question in a sound byte? How do I share 30 years
of love, friendship, some heartache and a ride on an
incredible success story. What an honor it has been helping
John follow his dreams. I spoke before about John's legacy -
the music that has meant so much to everyone and I also want
you to know that I've also just been a fan like everyone here.

Even though I've heard John's songs hundreds of times the
majesty and inspiration of his lyrics and music can still send
shivers up my spine, and now bring tears to my eyes. Instead
of talking about celebrity, his success, his good works in the
world indulge me...let me be selfish for a moment because
Aspen is home to me as it is for John. Just a few things I'll
miss - 20 years of New Year's Eve and Christmas Parties at
John's house. By the way, these were not catered affairs most
of the time. It was pot luck dinners, friends and family
bringing dishes and having a good time, telling lies and
sharing with Bruce, Tammy and Kathy, Malcolm, Paul and Mark
and so many other friends. Even when John wasn't there one
year we made a party anyway. We called him in Australia or
wherever else he was, telling him that we were drinking his
liquor and having a great time and he loved it. I'll miss
John barbecuing out in the cold. I'll miss the song of
listening to a new song just after it was composed. I'll even
miss the disagreements we had about career direction and then
the process of working it out together, always with love and
the give-and-take of friendship. I'll miss skiing with John
and Bruce; my heart in my mouth; trying to keep up with guys
who speed too fast...praying for lunch. A thousand memories
keep flooding my mind, overwhelming my heart - disappearing
and coming back again. My daughter, Amy, called me last
night. She couldn't understand that John would not be in our
life. She said, "Dad, John taught me to ski". That's the
kind of guy he was. Wherever John traveled and he was a
person who loved to sing and explore far off places and lands,
Aspen was truly home. Remember, John and Annie chose to live
here 25 years ago before it became fashionable...when Aspen
was a cowboy town dotted with little A-frames and health food
stores. We won't forget how much John loved this valley. He
performed countless benefits for so many worthwhile
charities...anything that would make this community a better
place to live. John was with me on my first ski run. I'll be
going downhill with you and we'll ski together all day. My
heart will never be without you. Let me just close by reading
this poem that Joe Henry wrote for John and I recited in
Denver yesterday.

Joe Henry's poem:

In sleep I think to myself and for all of us.
We are all of us beating fiercely beneath the wind or
lying placidly beneath its cruel flow. With broken hands
and wondrous wings and blinded eyes that see even beyond
seeing at the same worthless dream.
built of the same heart-crushing sorrow and the same
unspeakable loveliness. Awe at the same time.
How beautiful and sad it is all at the same time
And sleep I think for all of us
Sleep I think at last
....oh sleep in heavenly peace...sleep


============================
Bill Danoff and Taffy Nivert
============================

"A Celebration: The Life of John Denver"
October 18, 1997
Aspen, Colorado


I'm Bill Danoff. I'm Taffy Nivert and this is the first song
that Bill and I wrote that was ever recorded by John Denver:

They sing...

"I Guess He'd Rather Be in Colorado"


I GUESS HE'D RATHER BE IN COLORADO


by Bill Danoff & Taffy Nivert
From the John Denver album

"Poems, Prayers & Promises"


I guess he'd rather be in Colorado

He'd rather spend his time out

Where the sky looks like a pearl after the rain.

Once again I see him walking, once again I hear him talking

To the stars he makes and asking them the busfare.

I guess he'd rather be in Colorado

He'd rather play his banjo

In the morning when the moon is scarcely gone

In the dawn the subway's coming, in the dawn I hear him humming
Some old song he wrote of love in Boulder Canyon

I guess he'd rather be in Colorado

I guess he'd rather work

Out where the only thing you earn is what you spend
In the end up in his office
In the end a quiet cough

Is all he has to show he lives in New York City


=============
Kris O'Connor
=============

Speech at "A Celebration: The Life of John Denver"
October 18, 1997
Aspen, Colorado

Hi. My name is Kris O'Connor. I have lots of stories to tell.
I think I can shorten it, though. I won't tell the one about
him putting the limburger cheese in my car on my wedding day.
Which I had to sell. I won't tell about the rainbow trout that
I gave him up here in Aspen and he put in the back of the
Porsche and remembered 6 weeks later that he'd forgotten to
take it out of the trunk. He had to sell the car. I won't
tell the one about Tom Crum and John jogging in the stairwells
of the hotels naked...taking winged position and jumping.
They didn't do it too often after that. They locked the door
of the floor and they had to find another way out.

I won't tell about when he started hanging upside down on the
bars. At first his stomach muscles weren't strong enough to
get him back up after he hanged down. So I went downstairs to
the bar one night. Some fans were there and they wanted a
picture of John. I had a key to his room; brought them up and
caught him upside down hanging there.

The one I really would like to tell is one he liked to tell
the most is the one he liked to tell - about Zak when he was
little on the way to a concert. I think it was Phoenix. They
were in the limo with Annie and Zak said.."Mom, why are all
these people coming here?" And he just didn't understand it.
And Annie said..."Well, Zak, they're coming to see your Dad."
Zak thought about that for a second and he said "Imagine that
- all these people coming to see some guy's Dad!"


==============
Barney Wyckoff
==============

Speech at "A Celebration: The Life of John Denver"
October 18, 1997
Aspen, Colorado

My name's Barney Wyckoff and I taught John how to pitch.
One of the most difficult tasks we are challenged with in our
lives is saying goodbye to our friends. Today it is this duty
that we are faced with. John was one of those lucky few who
died doing what he truly, truly loved. Flying gave John the
quiet time to deal with his other great emotion - he loved to
sing. Oh, God, did that guy love to sing.

His voice and his music gave him the vehicle to do what he
called playing in the World Game. He would sing to everybody
who would listen and to some who would not. I remember one
time he sang for about 750,000 people in St. Louis, and the
very next concert we did was for 75 people in Moscow - half of
which were KGB Agents. It didn't matter to him. As long as
people wanted to hear him sing, he'd sing. He'd sing for his
friend's weddings and he'd sing for his friend's funerals, and
he'd sing around the campfire. He'd sing for anybody and for
everybody. Wherever he went, he sang. When there was nobody
around he'd go out to the Deaf Camp and he'd sing for those
who couldn't even hear. His music was a Universal language
and his songs did make a difference. Anybody who was around
John experienced what we called "exploded time." People who
were with him for only a few minutes came away with hours and
hours worth of experiences. Those who only got a brief
conversation with John shared this time with their friends and
their acquaintances for weeks and months and years on end.
Those who spent a couple hours of their lives with him at one
of his concerts came away with a lifetime worth of experiences
and emotions. To work with him was to cram weeks of projects
into a few hours of planning. He had the ability to warp time
to make it contain all that he needed it to be. I've been
reminded of all this during the past week as myself and many
of John's friends and associates have been inundated with
calls from all around the world. Some of the people knew John
quite well and some of them knew him only quite briefly - a
moment here - a concert there, but all of them were touched by
the experience without regard to time. They called not only
to pass on their condolences but to somehow recapture those
magic moments that they had with him. Many expressed how he
changed their lives and how he gave their lives a much deeper
meaning. Outside of this tremendous body of people are the
ones who could not call but who felt the terrible loss of a
friend. So we say goodbye to our friend today. We must know
that we are the voice representing millions of people all over
the world who feel the loss of this very special person. So
goodbye, old friend, and thank you. Thank you for touching
all of our lives.

=========
Milt Okun
=========

Speech at "A Celebration: The Life of John Denver"
October 18, 1997
Aspen, Colorado

Good afternoon. My name is Milt Okun. I've had many
relationships with John. Today I just want to speak about my
relationship to his music, as a matter of fact if there was
gathering like this every day for 6 months. John's life was
so rich and he has given so much that I could find something
to talk about for the next 6 months.

I do want to share with you three or four thoughts about his
music and then ask for some of you to think about helping in a
project that's going to take up the rest of my professional
life. One short item. I came here about an hour before the
ceremony started and there was a whole medley of John's songs
played in a different order than I had ever heard before and I
noticed one thing - that the musicianship of the company
musicians and the singers was absolutely superb. Now, as
John's producer for most of his career; normally the producer
picks the musicians who will play in the record. In John's
case, John always picked the musicians and they ran the gamut
from world famous - people like James Horn and James Burton
and many others - down to friends who had never played
professionally. But listening to these 10 or 20 songs I
realized what these musicians have in common is an
extraordinary sensibility. I have never heard so many
musicians play so many songs so beautifully and so simply.
You can listen to records by world famous artists and not hear
as beautiful and as sensitive playing. And so many of these
musicians are here today.

One funny experience with John's music - about 8 or 9 years
ago he was performing on a special - a Christmas special with
Julie Andrews plus Placido Domingo and the King Singers from
England - show for ABC called "The Sound of Christmas" and it
was shot near Saltzburg, Austria. During the rehearsals the
manager of the King Singers came to me and said "I'm a big fan
of John's and I play on the piano. I think I have all his
songbooks and I play all the songs and I have never heard a
single song of John's in a minor key. I said..That's not
possible. He's done 150 songs or more, there have to be some
in minor. I've never heard one and never seen one. That night
I mentioned to John that this woman had said she never saw a
song of yours in a minor key. He said.."Oh, there are some."
"What could they be, John" I asked. "I'll think about it. I'm
sure there are some." I went back home to Los Angeles when
the show was finished and I went through John's entire list of
songs and there was not a single song in a minor key.
I thought I've been dealing with a limited artist. A few
weeks later I happened to be...my other passion besides folk
music is opera. I was listening to one of my favorite operas,
one by Wagner. I was looking at the score as I was listening
to the record and I noticed that in the whole opera there was
not a single aria or chorus or instrumental passage that was
in a minor key. Five hours by Wagner and not a single moment
in a minor key and I said "Gee, John is in good company."

I think John doesn't deserve to be honored because he has had
x million sales of records or x platinum records or x gold
records. There are lots of artists who have lots of million
selling records and gold or platinum records and five or ten
years from now they will be statistics on billboard's list of
past hits. And the reason I want to talk about John's music
is aside from all his good work, all of his benefits, all his
kindnesses and his generosity and in 35 years in the music
business there has never been anyone even approaching John and
his generosity but the one thing that is going to lead to his
immortality is his music. I think his music is going to be
with us forever. As I go through the songs I see that I can't
think of another artist who has defined a county, defined a
civilization as much as John has and his music is like a
beautiful country stream, flowing in nature and it's a stream
that enriches us all surrounded by a sea of polluted culture.
I think it is urgent that we do whatever we can to establish
John's legacy with his music. At the present I think John's
songs are sung more in school than any other artist; any other
single composer. And I'm going to devote the rest of my
professional life to figuring out ways to establish John for
what he really deserves to be - one of the great icons of
American culture along with Stephen Foster and Leonard
Bernstein. John's music is more appreciated around the world
than it is here. He deserves the same recognition here and
any of you - I know that there are people here from all over
the country - any ideas you have for plans to have more and
more people listen to and enjoy John - not just as a pop
singer, not as a million seller, but as the true voice of
America. Please contact us and give us your ideas.
Thank you.

=======================
Anna Kate Deutschendorf
=======================

Speech at "A Celebration: The Life of John Denver"
October 18, 1997
Aspen, Colorado

Hi. My name is Anna Kate. This is Zachary and Jesse Belle and
I just wanted to thank everyone for being here today. It took
a little longer than we thought it was going to. I just want
to say that I think my Dad would have liked this a lot. In
the interviews a lot of people asked me "What is the one thing
you are going to miss about John Denver?" I think...."We're
going to miss him a lot. Just that...We loved him when he
was here and now that he's not here we're going to miss him."

=================================
Tom Crum - (Second Time on Stage)
=================================

Tom Crum introducing the song "Yellowstone Coming Home":
"A Celebration: The Life of John Denver"
October 18, 1997
Aspen, Colorado

The last record, the last song John recorded we would just
like to sit back and hear that right now. John will introduce
it.

John Denver:
"It's about wolves, what I know about them and first of all I
thought about that incredibly lonely cry of the wolf to the
moon and how it sounds like human longing to me. And I
thought about the wolves and how they are community creatures;
creatures of family and I thought about how that relates to us
as human beings and on this trip down the Grand Canyon I
thought about the fact that every wave that I've ever seen
somehow makes it to the shore and I thought about the water
from those snow-capped mountains that I love on their journey
back home to the sea. And so the song got to be about
returning. It got to be about coming home. It's called
"Yellowstone, Coming Home".

John singing:

aooooooooooooo
aooooooooooooo
aooooooooooooo
aooooooooooooo

Oh the Yellowstone
Oh the buffalo free
Oh my brother the wolf
My mother the moon
Oh the little ones
Oh the joy that I feel
Oh the love of my heart
The wilderness song

aooooooooooooo
aooooooooooooo
aooooooooooooo
aooooooooooooo

Oh the waterfall
Oh the river that runs
Oh my brother the wind
My sister the sea
Oh the ocean shore
Oh the castles of stone
Oh the mountain tops
Calling to me

aoooooooooooo
aooooooooo
Come home
aoooooooooooo

Returning forever returning
Coming home
Belonging forever belonging
Never alone

Oh the mystery
Oh the dreaming of dreams
Oh my brother my own
My sister my own
Oh the tenderness
Oh the longing for love
Oh the beautiful way
The sweet coming home
aooooooooooooo
aooooooooooooo
aooooooooooooo
aooooooooooooo
aooooooooooooo
aooooooooooooo
Coming home
aooooooooooooo
aooooooooooooo
aooooooooooooo
aooooooooooooo

D-41
Yellowstone

by John Denver

Sung at Concerts but not on an album



The song opens with JD doing wolf howls.


aooooooooooooo
aooooooooooooo
aooooooooooooo
aooooooooooooo


Oh the Yellowstone
Oh the buffalo free
Oh my brother the wolf

My mother the moon
Oh the little ones
Oh the joy that I feel

Oh the love of my heart
The wilderness song


aooooooooooooo
aooooooooooooo
aooooooooooooo
aooooooooooooo


Oh the waterfall
Oh the river that runs
Oh my brother the wind

My sister the sea
Oh the ocean shore
Oh the castles of stone

Oh the mountain tops
Calling to me


aoooooooooooo
aooooooooo
Come home
aoooooooooooo


Returning forever returning
Coming home
Belonging forever belonging

Never alone

Oh the mystery
Oh the dreaming of dreams

Oh my brother my own
My sister my own
Oh the tenderness

Oh the longing for love
Oh the beautiful way
The sweet coming
home

aooooooooooooo
aooooooooooooo
aooooooooooooo
aooooooooooooo
aooooooooo
oooo
aooooooooooooo
Coming home

aooooooooooooo
aooooooooooooo
aooooooooooooo
aooooooooooooo

Copyright by John Denver - 1997