Honda VTR1000
---
Do you like how I modified my VTR1000 ? With this bodywork is even better, indeed.
All the special part you see have been built by us, and they are for sale.
Interested ? Want to modify your too? Mail me at:

(Click on images to see large ones)
---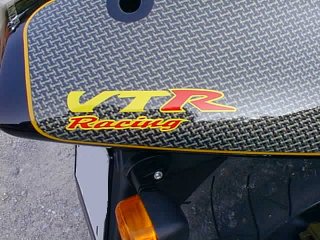 Click on the links below for more details of the rear tail.
tail_1 tail_2 tail_3 tail_4tail_5

I just finished to mount the Sigma BC1200. It's a small computer originally built for bikes that
works up to 300Khm. You can also use the BC800 model. The only difference is that BC1200 can
be used on two different bikes without being reprogrammed (tire circumference).
Other functions are the same:
Speed readout - Trip distance - Clock - Riding time - Maximum speed - Average speed
Comparisons betwen actual speed and average speed - Odometer log
Total riding distance - Total riding time - Stopwatch
Sigma computer is really useful on bikes which have speed sensor on gear. With these bikes if you
change final gear (front - rear sprocket) stock odometer would give you wrong readouts.
This does not occur with Sigma as it read speed on wheel circumference.
Instead of the supplied sensor, too big, I mounted a small reed, easier to be placed, protected by a rubber
tube. As magnet I used a small one found in furnitures' panels fixed on a small allumimium bracket.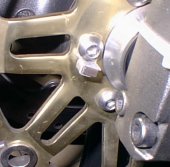 Is your VTR red or yellow? Click on the links to see how it could be.
Thinking about racing? Oh, Yes! Take a look here
NEW! Maurizio's special VTR1000R, take a look, it's worth!
---