Squeeze your MP3s to 50% of their size, converting
to WindowsMediaAudio, mantaining the same audio quality !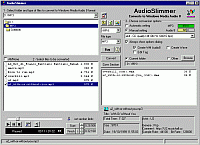 version 1.15.3 - update 12/28/2005
For Windows 95 / Windows 98 / Windows NT / Windows 2000 / Windows XP

AudioSlimmer is an easy-to-use audio converter, useful to convert your
MP3s or WAVs to the revolutionary Windows Media Audio 8 format
It can also be used to decode MP3 to WAVs, to play music and to manage the files. AudioSlimmer provides multiple files conversion and enables to extract specified sections of audio files.
NEW ! Advanced ID3Tag editor for MP3 and WMA files included, also provides functions for the automatic file rename using the ID3Tag information.

AudioSlimmer produces WMA files, encoded using the latest Windows Media Audio 8 codec, that provides:

- CD-Quality Audio at half the size of MP3
- WM Audio 8 encoding captures more of the original WAV audio file than MP3 or Real Audio 8

The WMA files can be played using Windows Media Player 7 and 6.4 for Windows and Mac. Winamp and all the consumer devices that support Windows Media Audio today already support Windows Media Audio 8 and require no technology upgrade.

Supported file formats: MPEG-1 Layer3 (MP3), WaveAudio (WAV), Windows Media Audio (WMA)

Some features of AudioSlimmer :

- conversion of MP3 files to WM Audio8 format
- conversion of WAV files to WM Audio8 format
- decoding of MP3 files to WAV files
- automatic detection / manual setting of audio quality
- automatic calculation of the resulting file size, depending on audio quality
- conversion of the entire file
- conversion only for a specified section
- embedded enhanced player for MP3, WAV and WMA
- ID3Tag editor, reads Id3v1 and ID3v2 tag, saves to ID3v1 e WMA8 standards
- automatic file rename from ID3Tag information
- list of more recent used folders
- file management functions (move, delete, rename, copy file, explore folder)

Language : English/Italiano
Home Free Download Register MidiRunner ABCPix Contact