The ARKA THEATRE (H.C.E.), founded and managed by the actor/director Massimo Zanasi, is made up of two complementary sectors: The Theatrical Experimentation Ensemble, a real driving force concentrating on research involving modes of expression and on producing works which have been touring the world for several years, refocusing attention on the problem of Artifex (Actor/Actant-Author-Director), and The Performance Research Workshop, a centre for cultural and artistic proposals emphasizing linguistic and aesthetic forms in the various arts.
Both sectors work under a single programme called Arts Dramaturgy, whose aim is to develop and investigate so-called Poetic Theatre, using parallel research techniques of comparison and cooperation applied to the ethical and aesthetic relationships between the numerous functions of speech, sight, sound, text and movement.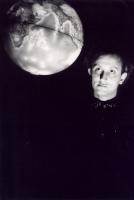 InterActions, celebrating its fourteenth birthday, is not only a retrospective but an original initiative under the auspices of the Theatrical Cultural Association ARKA's (H.C.E.) study and research programmes, involving both modes of stage expression and contemporary thought.
This idea of a permanent workshop and a national and international retrospective of the Performing Arts (Theatre, Music, Dance, Poetry), Video and Installations has led to permanent, stimulating contact with other artistic directors to coordinate, both in Europe and beyond (Japan, North America, ...), discoveries in this unique experimental sector which by definition almost never produced "goods" for immediate consumption.
Thus the decision to periodically make public the efforts of artists coming not only from "official" but even "self-produced" and sometimes "lateral" circles in respect to current institutions and markets, ignores hierarchies and distorted classifications. It invariably assumes political characteristics, favouring endangered languages and the great minorities of dramatic theory and art history, like those arising from the ethnic islands of our Mediterranean as well as from the ethnic and intellectual "islands" present in the great metropolitan areas.
In these cases, it is not enough to consider the parameters of the theatre, figurative arts, music or poetry singly; they must be constantly brought into focus using an approach which is both aesthetic and anthropological. The contemporary artist is often bathed in the dying light of art as a specific phenomenon and drowning in the general tendency to render all of existence "aesthetic". As a result, he must not only know how to express himself but also be able to experiment old and new ways of witnessing to the times he lives in, continually rediscovering what he/she has to say or, at least, what we are not and what we do not want.