MASSIMO ZANASI
via Porrino, 5 - 09032 Assemini (CA) - Sardinia / Italy
Telephone/Fax: ..39/070.946.057
E-mail: arkamax@tiscali.it
Born in Sardinia, Massimo Zanasi is considered one of the italian foremost experimental theatre and art performance creators.
He has worked as a poet/actor/performer since 1977, producing over 200 unique stage projects at major festivals, alternative venues and public spaces throughout Italy, Europe, North America, Japan and his native Sardinia.
He is the artistical director of the Arka Theatre since 1980 and of the International Festival of Performing Arts, Video & Installation InterAzioni since 1988.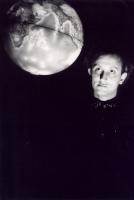 As a contributor to international cultural networking Zanasi is active as a free-lance writer for the press, council member of the Italian Federation of Film & Video (Fedic) and a founder member of the Performance-Performing Arts Network (PpAN).
Zanasi is identified with a strain of performance relating more to "dramatic composition of the arts" than conventional theatre.
His work focuses on "poetry theatre" and difficult themes: issues of oppression, freedom, experience of alienation, appropriation of cultures, concrete and ritual actions, mythologies; a continuous journey to the heart of contemporary tensions and distorsions.
"HOSTAGE" is a concept and a performance born assuming that in a global community based on financial rules, the human beings, the minds, the nature, even the planet life, are kept "hostage".
Hostages of consumerism, wicked policies, destructive sciences and Power's conflicts. In this way, Zanasi's project explores the constructing and de-constructing of space, sound, body, in a range of languages from "theatrical" - where the viewer is a Subject and the performer is an Object - to "non-theatrical" where there is neither Subject nor Object and art equals experience, threshold, no-man's-land.
Tecnical requirements and characteristics:
Seeking technical assistance with: a good amplification system for a sound base on cassette and mixer with reverberating unit (Alesis type); a good quality stick microfone; a radio-microfone (clip) and audio stage monitors; slide projector Kodak Carousel with wide-zoom lenses; 4 directional lights on platform that can be positioned on the side of the stage; videoprojector (liquid crystals) on idraulic tripod to follow the performer; multisystem videoplayer (VHS-pal)
TEATRO ARKA (H.C.E.) • Via Porrino, 5 • 09032 Assemini (CA) • Sardinia - Italy • Tel.: +39/070/946057 • Fax: +39/070/946057