<![if !supportEmptyParas]> <![endif]>
Tour du Mont Blanc
"diary-guide" of the trekking around the top of Europe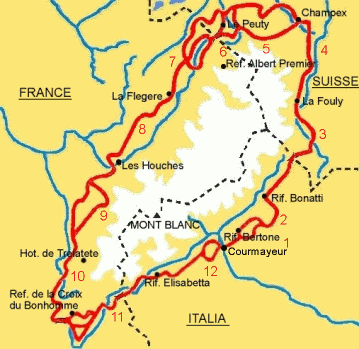 ---
[ The TMB - The route - Practical information ]
<![if !supportEmptyParas]> <![endif]>
THE TMB
The route of the Mont Blanc represents one of the most spectacular trekking of Europe. In twelve days you will walk through nearly two hundred kilometers of paths that cross seven valleys and three different states (Italy, Switzerland and France), discovering spectacular landscapes and wonderful panoramas that will impress your mind for their beauty. There are uncountable options that allow you to modify the path as you prefer, widening your knowledge of the tops and the valleys that encircle the Alp's Giant.
THE ROUTE
The beauty of the TMB consists above all in the possibility to personalize the route by means of numerous variants, that allow you to adapt the tour to your own requirements and own desires.
We covered the entire route in six people, five boys and a girl (Carlo, Matteo, Fabio, Giorgio, Nicola and Elena), spending the nights in the pleasant refuges scattered along the paths, except in some cases in which we passed the night in the bottom of valley, where we slept in campings with the tents we had carried with us. To tell the truth, we began our trip in seven, but Riccardo has been forced to abandon after three days because of an indefensible pain to his knee.
We started in Courmayeur on the 8th of August and we returned there on the 19th: twelve days part on the classic path and part on some variants:
PRACTICAL INFORMATION
You will have to walk through a rather difficult route, characterized by some long and tiring stages, that should be faced with an appropriate physical and mental preparation. The paths are in general not technically difficult, but in spite of that, there are some exposed ways equipped with metallic supports or peg ladders, some steep stretches and some snowfields, that should be covered with a bit of attention. However, it is absolutely unuseful to carry with you specific equipment, like ropes, shackles and so on. But if you want to cover the tour at the beginning of summer, it could be useful to have a pair of crampons and an ice-axe, in order to exceed those ways where the winter snows still haven't melted completely.
The only disadvantage you could have to overcome is the bad weather: there are some parts of the route (particulary some steep descents) that could become rather dangerous with rain and wet land. Therefore, if it rains I suggest to start walking only if you have carefully studied the path and if you are sure that you will not have to cross dangerous parts of the route. Altogether, we have been rather lucky; except the first three days, during which we had to put up with an neverending and annoying rain, we had beautiful weather all the rest of the trip.
You can cover the TMB from the second half of June to the end of September. At the beginning of summer you must pay attention to the unmelted sonwfields along the way, while at the end of summer you must pay attention to the highily variable weather and must verify the opening of the refuges, because in that period they could be closed or be open only during weekends.
The duration of the tour can vary according to your desire of walking. Twelve days represented for us a perfect duration. This period gave us the possibility to cover some variants to which we didn't want to renounce, even if we have rather lengthened the standard distance. The duration of the TMB can be shortened by bus -in order to cover some long parts at the bottom of valleys- and cable-railways to avoid some very long and hard descents.
The hikers who face the tour can use numerous refuges scattered along the paths, which can be private or of property of the local alpine clubs. Nearly everywhere there is the possibility to sleep in a 3/4 bed-room or in a dormitory. This last solution is surely less expensive. In high season, if you are walking with many people, you'll probably have to make a reservation in every refuge, because they can be very crowded.
If you had to pass the night at the bottom of valley you could sleep in a pension or, as we have done to save money, go in a camping.
Here follows a short list of the refuges we spent the night in. The two web links that appear in the table are the only official ones we have been able to find: that does not mean either that the official web site of a particular refuge does not exist or that is impossible to find on the web useful information on the several quoted refuges.
| | | | |
| --- | --- | --- | --- |
| Refuge | Property | Locality | Tel. number |
| | Private | Courmayeur | 0165 - 844612 |
| | Private | Lavachey | 0165 - 869723 |
| Refuge du Peuty | Private | Le Peuty (Trient) | 0041 - 792191418 |
| Refuge Albert Premier | CAF | Le Tour | 0033 - 450540620 |
| Refuge de la Flégère | Private | Les Praz | 0033 - 450530613 |
| Hôtellerie de Trélatê | Private | Les Contamines | 0033 - 450470168 |
| Refuge de la Croix du Bonhomme | CAF | Le Chapieux | 0033 - 479070528 |
| Rifugio Elisabetta Soldini | CAI | La Lex Blanche | 0165 - 844080 |
The equipment you have to carry with you during the trekking represents one of the most delicate points: every extra gram you will put on your shoulders will mean additional hard work during your walks. You have to carry only the indispensable equipement, giving up to everything you will not surely need. It is necessary to have a full equipment for mountain hiking. The rucksack should be sufficently large (50 liters or more) to contain comfortably all the equipment. The shoes should be very resistant and water proof and, above all, very tested, to limit the unavoidable blisters that necessarily accompany all the trekkers.
A thick wool sweater will be warm enough. Fundamental is also a wind-cheater and a water proof cover for the rucksack in order protect the baggage when you have to walk under the rain. Moreover, you have to take with you a thermal bottle, some food for emergencies (dried fruit and nuts are good value for their weight), a pair of sun-glasses and a sun-hat, a small knife, some plaster and the necessary medicines. We all carried with us a pair of trekking poles that were a great help, especially on some long descents.
If you decide to spend some nights in a tent you should take a good sleeping bag to protect you at least until 5 °C. If you decide to sleep every night in the refuges, I advice you not to carry a sleeping bag (you will lighten your shoulders!), but only a simple "bag-sheet" you will use with the blankets all the refuges give to the hosts.
Even if the paths are nearly always good marked, is opportune to have a detailed map. We used the two French maps of the "Institut Geografique National" (scale 1:25000), precisely the two sheets " Chamonix " and " Saint Gervais ".
The route we followed has been taken from a very good book guide by Stefano Ardito "Il giro del Monte Bianco", published by Vivalda. I can also reccommend to guides in english: "Tour of Mont Blanc" by Andrew Harper and "The Tour Of Mont Blanc: complete trekking guide" by Kev Renyolds, both published by Cicerone Press.
For any information or advice write to me!


top of the page
---