Please be patient while we finish setting the buffet!
Cheers, skål, cin cin for the happy couple!

The wine and the champagne is flowing!
Shelabird Liver Paté with Mookruh Garnishes
(imported directly from the cat planet Shelakovenia!)
Chicken Breasts & Trout alla Naturale with Catnip Spiced Italian Virgin Olive Oil!
(You can pick off the green from the chicken if you don't like it, of course!)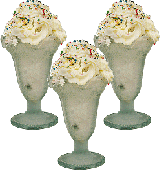 For dessert some Micecream Deluxe - with strawberries on the side!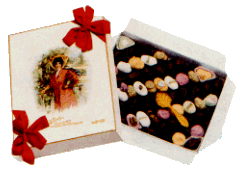 After that sweets and a catnip soda!
And, for the humans, freshly grinded and brewed coffee!
(Sorry, we're out of cream!)
Thank you to Smokey & Hugo who tipped us about the micecream & champagne caterer!
Other foodstuff courtesy of Line's Graphics, Orbit the Cat and About
Sophe & Albe's Wink-Wink Party, copyright © 2001 Line Gisnås, all rights reserved